Memories of Bath - Trial and Tribulations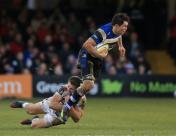 By Clarkey3k
July 9 2017
I returned to the SW in September 1982 after University and 12mth as a graduate management trainee in various parts of the country with RHM. I hadn't played rugby since my school days when our 1975 Colts team were undefeated, our only blemish a 12-12 draw with Millfield that season. A new friend was a member of the Bath Football Club and he took me to the Rec to watch a match. I was surprised to see Simon Halliday playing for Bath, we were at the same school and I thought that'll do for me.

One evening the following week I went down to Lambridge and got talking to a small, friendly bloke with a moustache and a Bristol accent who was sure I'd be welcome but to meet him at the Rec on Saturday after the next match to meet a committee man. We met as agreed and after a beer and a warm, friendly chat with a bloke in a blazer I was advised to report for training the following week, the club was "always looking for big strong lads" like me apparently.
I turned up as instructed and started to get changed in a dirty, old, wet shed containing wooden benches and a few hooks to hang your gear up. I was underwhelmed by these facilities and got chatting to another young man with thinning hair, putting his boots on; he would go to win 20+ England caps in the 2nd row and play for the Lions. Our chat was rudely interrupted by a big bloke with curly blond hair [the captain apparently] who burst into the shed waving a shotgun shouting, "get out there and effin train!!" We quickly did as he'd asked.

Outside there were a few blokes in tracksuits milling about; one of whom would beat NZ with England the following Autumn, and two with whistles who would coach Bath in their glory years and both go on to coach England. The taller of the two with glasses and a Geordie accent asked me a couple of questions I can't remember and said join the warm up. We then proceeded to run up and down Lambridge all evening with and without a ball. To be honest I can't remember much about it; I was struggling to keep up and draw breath with blood pounding in my ears but I do remember the tall Geordie guy calling me aside at the end of the session. I walked over thinking that didn't go too badly when he said, "go away and come back when you're fit".

I went home chastened by my experience and struggled to get to sleep that night because my chest wouldn't stop heaving [bl00dy fags] from the effort of the previous 2hr. I didn't go back but did join a local club for 12mth, did get fitter but moved to Manchester for work and played my rugby in the Northwest. My absence from the Bath team coincided with their most successful period in the history of the club game. That Geordie fella clearly knew what he was talking about…
pqs: qs: