Stadium Development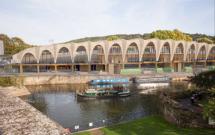 The new rec?
By CoochieCoo
January 12 2018
COML has been invited to join with other groups to give input into the development of the Rec. I have agreed with Hasta and PG Tips to represent COML on these meetings which are monthly. The meetings are for a communication line between us and the Club and vice versa.
In order that we can be heard and be able to participate effectively I would appreciate your views on aspects of the development that are important to you. Please respond on this thread. I suggest that comments on the following subjects in line with the Club's document "Exploring The Opportunity" be a starting point, but not exhaustive:
1. Design - Heritage aspects (visual of stadium,views of surrounds, height), Daylight (influence on playing surface, sun etc), Floodlighting, Sound systems, Infrastructure and Facilties (toilets, drainage), Sustainability (energy efficient, materials), Technology (TV screen, clocks, WiFi)
2. Environment - Riverside, Access, Trees, Flooding,
3. Transport and Access - Pedestrian Access, P&R, Train, Buses, Accessibility,
4. Matchday Experience - Seat views, Roof cover, TV Screens and PA, Toilets, Bars, Restaurants, Eating Outlets, Pricing, Stewards
5. Community, Sporting Participation and Well Being - Artificial surface, grass, ability to be used for other activities, conference facilities, function restaurant & bar,
6. Economic Impact - Multi purpose, Winter impact on Bath economy,
7. Accessibility - Food outlets, Bars, accesibility issues, stairs, gangways.
Thank you
pqs: qs: