Entertaining Defeat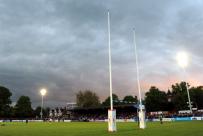 By Blues Brother
April 10 2017
And so the curtain came down at Goldington Road .... at least the last home game of a poor season saw us run in some good tries against top opposition in second placed Carnegie .....
The visitors deserved their 27-43 win while the big Blues crowd was loking for pointers for a better outcomer in 2017-18.
Tricky to say whether we got a confidence boost but we did enjoy tries from Dean Adamson, Pat Tapley, Jacob Fields and Jake Sharp.
We do, or coruse, sahve the poppotynbity to thank Mike Howard at his Testimonial game on May 5th and we have a final league trip to Pirates before that.
However, this is not a season which we will wish had never ended.
pqs: qs: