Top Of The League!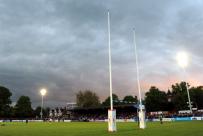 By Blues Ed
September 11 2017
Ok we are only two games in but being top is better than being bottom ... and next up are Trailfinders who also have the maximum 10 points ...
We blitzed Scottish in the first half and were full value for the 44-26 win.
We'd got the bonus point before the break with tries from skipper Le Bourgeois, Howard Packman, Lee Dickson and Rich Lane with another for Packman after the break and a debut try for the promising Jack Nay.
Ealing were winnning at Richmond , as we had done in the first game, so things are set up nicely for the game at their palce this weekend. Nobody is getting carried away but it's better to get the points in the bag when you can.
pqs: qs: