On The Up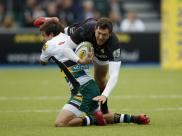 Lee Dickson
By Blues Brother
October 2 2017
Well done to the Blues for avoiding the tourist attractions of the Channel Islands and doing a job on Jersey. The 15-13 win was at tight as they come with Lee Dickson sending in Harry Sheppard for a deserved winnner ..
Dean Adamson got the other try thanks to a breakaway earlier in the second half as both sides slogged it out.
Next up at Goldington Road is bottom club Rotherham Titans. Surely an opportunity to cement a place in the top half.
pqs: qs: