Spoke To Soon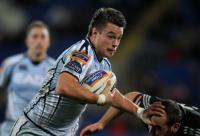 Chris Czekaj starts
By Blues Ed
January 12 2018
The Blues tempted fate by saying we had the very rare luxury of a fully fit squad from which to select... now there are two late changes for tonight's game .
Justin Blanchet comes in for Jack Nay at blindside flanker while Chris Czekaj replaces Matt Gallagher at fullback.
They'll be in the team which takes on Ospreys Premiership Select in Aberavon. We need the win to keep our slender lead at the top of Pool One with Munster breathing down our necks - they're at Nottingham
The Blues see the return of winger Howard Packman for the first time since his injury at Nottingham in November while Jordan Burns is at scrum half.
Blues: 15. Chirs Czekaj, 14. Howard Packman 13. Ollie Dodge 12. Michael LeBourgeois (capt) 11. Dean Adamson 10. Harry Sheppard 9. Jordan Burns 1. Sean McCarthy 2. Tom Lindsay 3. Ben Cooper 4. Jordan Onojaife 5. Will Carrick-Smith 6. Justin Blanchet,7. Josh Buggea, 8. Jarad Williams
Reps: George Edgson, Camilo Parilli-Ocampo, Alex Penny, Ed Taylor, Alex Rae, Lee Dickson, Will Hooley
pqs: qs: