Hutchinson Debut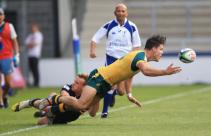 Hutchinson Tackling
By Blues Brother
February 9 2018
Saints and Scottish Under 20's centre Rory Hutchinson comes straight into the Blues side to take on Jersey Reds tonight after signing dual reg forms ..
He might enjoy it. Games between the two are normally high scoring - add in the atmosphere of playing under the lights and we should be in for another cracker.
Le Booj moves to fly half as Will Hooley is playing for the USA and Elliot Clements-Hill is at full back and George Edgson at hooker.
We need to build on that excellent show against Bristol last time out.
Blues: 15. Elliot Clement-Hill, 14. Howard Packman, 13. Rich Lane, 12. Rory Hutchinson, 11. Dean Adamson,10. Michael LeBourgeois (capt), 9. Lee Dickson, 1. Sean McCarthy, 2. George Edgson, 3. Ben Cooper, 4. Jordan Onojaife, 5. Will Carrick-Smith, 6. Justin Blanchet, 7. Alex Rae,8. Jarad Williams
Reps: Tom Lindsay, Camilo Parilli-Ocampo, Alex Penny, Ed Taylor, Josh Buggea, Jordan Burns, Dan Lewis
pqs: qs: