Great Finish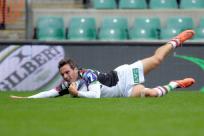 Burns Try
By Blues Ed
April 30 2018
A satisfying end to a highly enjoyable and entertaining league season at Goldington Road. The last ditch scores against a game Richmond side ensured a bonus point win and an eminently respectable finish in third place.
The 28-12 win came courtesy of two late tries from Rich Lane and Jordan Burns - admittedly after the visitors had looked the more likely to clinch the game.
They had the territory when we only ahead by two points but once again our flare clinched the victory.
The question is - will we push on and do even better next time around?. Doubletss Irish will be favourites to go back up but let's give it a go.
Can't wait.
pqs: qs: