Frustrating Day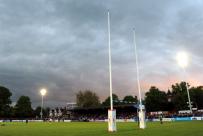 By Blues Ed
October 1 2018
Last season we drew 52-52 with Scottish. On Saturday we should have drawn 26-26 at Goldington Road but opted not to go for a last minute pen in the hope that we could produce a win after monumental pressure on the Scottish line. Sadly we couldn't and lost 26-23.
It was a lively contest. Nip and tuck throughout but Scottish won by virtue of slotting their pen when the score was 23-23 in the dying minutes.
So, only one point with our tries coming from Dean Adamson, Tadgh McElroy and Ryan Hutler. Ed Coulson converted one and kicked two pens.
pqs: qs: