Sam Warburton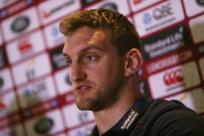 By Steve Matthews
July 6 2017
Cardiff Blues' Sam Warburton enters the Final Test in New Zealand with the opportunity to add to an already impressive list of achievements. Already part of the first Lions' team to win in 16 years, he has the opportunity to lead the Team to the first victory in New Zealand since 1971. It's a mark of the man, that his own achievements won't be in his thoughts. Under pressure to deliver from many quarters this year, and still a "poor pick" in many eyes, he has an opportunity to once again silence his many critics. I write a few words in tribute.
The only shirt on the walls of Sam Warburton's home in Cardiff is not a Wales shirt. It is a shirt that he wore on the 2013 Lions' Tour to Australia. He told Martin Samuel of the Daily Mail last week that the "Lions have been the absolute pinnacle of my career. Every career highlight has been in a Lions' shirt."
For me, that's no insult to his achievements for Cardiff or Wales. In fact, its music to my ears, as I see the Lions' as the greatest of all teams.
It's a tribute to what Sam has gone through to get where he is now.
As a player, he has spent a long while coming under increasing criticism. With the coming to the fore of Justin Tipuric, who has currently replaced him in the Wales 7 shirt, and a number of young bucks, including our own Ellis Jenkins, there's been no room for complacency on his behalf.
Indeed, complacency is not a word you have in mind when considering Warburton. From his reticence to take on the Wales' captaincy initially, to his honest appraisal of his performance leading up to the 6 Nations, which led to Alun Wyn Jones replacing him as Wales' captain, Warburton's existence has always relied on the highest of standards.
He has always maintained that he must be an automatic pick to be captain, and it's evident that he is his own biggest critic. After suffering an injury during a match against Ulster last April, his selection for the tour, let alone the captaincy was in doubt, in many eyes. I have to say, I was a bit unsure about it myself, in spite of his proven ability to get back up to speed fairly quickly on return from injury. I thought the pace of the game he would encounter in New Zealand would be far too great, even for his powers of recovery.
However, no such fears were found in the minds of the management team. Keeping in mind that there were three Englishmen on the panel, the decision to name him as captain wouldn't have occurred if they weren't united in the belief he was the right man.
An ankle injury sustained in the first game against the Provincial Barbarians side, put further doubts into people's minds. In fairness to Warren Gatland, and his coaches, those doubts saw him relegated to the bench for the First Test.
Peter O'Mahony captained the side, and was joined by Sean O'Brien and Taulupe Faletau in the back row. There followed a surprising capitulation by the team. With the selection of Liam Williams, Elliot Daly and Anthony Watson in the back three, there seemed to be a shift in emphasis from the previous methods that had brought success, especially against the Crusaders and the New Zealand Maori.
I was reminded of England in the '91 World Cup. A team that had progressed impressively through the previous rounds by playing an agressive, forward oriented brand of rugby, suddenly decided that a more open style was necessary against the Australians.
Although this Lions' team were still sure to play a limited brand of rugby, that choice seemed to have an effect on the way they played. Andy Farrell, the coach who had had the greatest effect on the team up until that game, saw his work somewhat diminished in Auckland.
That "in your face" strangling defensive style was not in evidence, and although the Lions' scored a try made in Scarlet heaven by Liam Williams, the All Blacks physically dominated a team that had done that to previous opponents on tour. I always thought that Gatland's assertion that there wasn't too much of a jump between Provincial Rugby and the All Blacks, early in the Tour, was dangerous!!
Cue outrage when the impressive O'Mahony was relegated to the stands for the 2nd Test, to be replaced by Warburton. However, he had an instant and impressive effect.
When I re-watched the DVD of the '13 Tour to Australia earlier this week, the clip of Warburton's team talk before the first Test centred on physicality. Winning the collisions was his key message, and I imagine that prior to the Second Test, this would have played a key part in his final words too. Especially considering the lack lustre way the team went about their business in the First Test.
The excellent Charlie Morgan has written extensively on Warburton's breakdown abilities. A Google search, and a subscription to bypass the Telegraph's pay-wall will be an enlightening experience. He, along with others, regularly talks of prolonging the attacking breakdowns to over three seconds, in order to blunt the weapons of the team in possession.
Our very own Dan, who writes the Cardiff Blues Blog also wrote an excellent piece on Warburton's contribution this week, with some excellent stats. What was noticeable on Saturday, was that Sam was regularly to be seen, head down, over the ball, slowing down the recycling speed of All Black ball.
It was pointed out on Social media that Referee Garces was often heard to shout words along the lines of "hands off 6," without Sam conceding numerous penalties. It was a facet of play not successfully carried out in the First Test.
Of course, the victory was not all the work of Warburton, the team performance was huge. Anyone watching intuitively though couldn't help but appreciate the overwhelming effect he had on the game. In the Flats and Shanks podcast recently, David Flatman called Warburton "a freak" over the ball. This was in plainly in evidence on Saturday.
A victory this week would be just reward for all of Sam's selfless dedication to his rugby – in teams ranging from Glamorgan Wanderers to The Lions themselves.
Of course, these thoughts wouldn't be crossing his mind. He would be paying no heed to the noise around him. In that interview in the Mail, he revealed that he had discarded his mobile phone and bought a new one with only his go to numbers. He's one of 23 players, and an initial squad of 41 who came to New Zealand to do a job.
However, in the Arms Park Club House, and across Cardiff and surrounding areas, many fans would be proud to say that he represents their club and the Lions, the latest in a long list of plays from Cardiff who have worn that jersey with pride.
Boys and girls from Rhiwbina would be watching out for him with extra interest – their player who played for their club, who represented Cardiff Blues, Wales and the Lions. A true example to youngsters in Wales who wish to achieve even a fraction of what he has throughout his career.
It's time that Warburton was truly appreciated. He's not going to fill a highlights package with the spectacular, but his contribution to any team has played for, on song, cannot be over-estimated.
We all wish the whole team the best of luck for Saturday. I'm sure there will be many of us who will have one eye at least on a true gent, and consummate professional. Step forward Sam.
pqs: qs: