Interview With Rhys Williams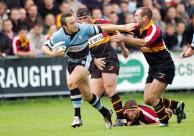 By Craig Muncey
August 28 2018
Really pleased to announce the next interview will be with Cardiff and Welsh international Rhys Williams.
Rhys was a fantastic attacking talent from mainly the fullback position but could also play wing.
He played 44 times for Wales and played 10 years for Cardiff captaining the side on a number of occasions.
Since retiring Rhys has been heavily involved in the business side of Welsh rugby working for Cardiff Blues and now the WRU.
I am sure that rugby fans will have questions they will want to put to Rhys, so can you please pass your questions onto me on the website, Twitter or Facebook pages please by this Friday night. The best 15 questions will be selected by me and then those questions will be put to Rhys.
Thanks to Rhys for agreeing to the interview which I am sure will be a great read.
Craig
pqs: qs: