Change is Inevitable. Continuity isn't.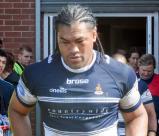 Latu Makaafi
By Mark Forster
March 5 2019
I REMEMBER the deep upset when some of my Coventry heroes departed for Rugby Lions.
Mal Malik's return to the Webb Ellis Road club and the subsequent departures of Steve Brain and Eddie Saunders, firm Coundon Road favourites, was distressing in the extreme.
Especially when Brainy and Fast Eddie were instrumental in Lions' victory over Cov at Coundon Road in the 1990/91 season, helping steer them, not us, back to the to the top division.
Cov finished joint third and it was a season of 'what ifs' - mind you, that's what I've always been used to with my club. But we could have, should have, been the ones to go back up. One season in the top flight is not fitting for a club with our history.
I also feel sad when players hang up their boots.
And it's that time of the year again.
I suppose it's become worse in the professional era, with players seeking better contracts, clubs looking to build and improve and offload those who, for no fault of their own, won't make the grade.
Or those players eyeing a bigger stage to play on make the decision to move on.
Several players who served the club well in its most recent glory season have moved on already. Nathanael Titchard-jones has gone to Birmingham Moseley, Ben Palmer to Broadstreet, Olly Povoas to Hinckley. Hopefully, they'll have fond memories of Cov, the Butts Park Arena faithful, and nip back every so often to remember they will always be part of the Cov family.
Two big characters in Phil Nilsen and Sammy Tuitupou are retiring at the end of the campaign. That we know. But it's also the time people look for pointers to other departures and bask in the rumours of new arrivals.
The loans of Tom Jubb, Scott Russell, Latu Makaafi and Jack Preece may well be indicators of the future at BPA.
Jubb has been a stand-out performer this season, much improved on last and showing real potential. But it might be his future doesn't lie with Cov.
Remember how key Jack Preece was to Cov's success in National League One? Yet he's hardly been involved in the Championship side, through injury I know, but it is a clear indicator that squads evolve and move on.
With talk that Latu, the big hearted, big smiling and big tackling backrower, might move on instead of putting his knees through a living hell on the synthetic surface planned for next season, it doesn't always follow that the other three loanees won't be part of Cov's future.
I know Rowland Winter is involved in contract negotiations and it's a tricky skill. He's not been too shabby at it so far in his tenure.
Cov has survived the loss of players of the highest calibres in the past and still succeeded. The move of Brain and Saunders was a bit more difficult to come to terms with for me, as it coincided with a dip in the club's fortunes on and off the field.
I was sad to see Luke Narraway move on after promotion, felt Brett Daynes would have made the step up to Championship rugby and believed Alex Grove still had plenty to offer.
It was interesting looking through a programme from the 2016/7 season, Winter's first in charge.
Of the squad of 35 back then, nine remain today. Including Jubb.
Phil Boulton, Scott Tolmie, Pete White, Tony Fenner, Will Maisey, Max Trimble, Rob Knox and James Stokes are the other survivors.
Tom Poole, a stand out performer who was only ever going to improve, saw his rugby days at Cov cut short by injury.
Matt Price and Andy Brown made their own choices. Boris Stankovich went back up the M69 to Leicester. We lost Brendan Burke and Brendon Snyman, James Pritchard, Jimmy Litchfield, Rob Conquest, Eoghan Grace, Darrel Dyer and Alastair Bone.
Daynes and Cliffie Hodgson joined Broadstreet, while Alex Smit, Sam Grasso, Rhodri Adamson, Dan Rundle, Callum McBurnie and the others rarely get a mention on the fans' forum.
Life moves on.
They will forever be part of Cov's story. They are part of Cov's family, whether they played once or 100 times, at least to me.
But the tale is being taken up by new faces now.
It's good to see Will Owen sign, and Tony Fenner and Rob Knox, among others, seal new deals.
Who else is Winter and his team going to unveil? Because, he has not been afraid to bring people in or offload them.
Let's not forget the talent we've got among the Development Academy, either.
It's not all about new faces, but I've got a few names I'd like to see in blue and white next season.
pqs: qs: