Ackermann Appointed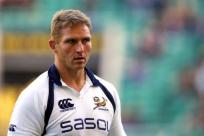 By Cherry Picker
April 3 2017
It's looking more and more likely that newly appointed Head Coach Johan Ackermann will be managing a side in the European Champions Cup next season. The superb finale against Cardiff Blues setting Gloucs up for a Challenge Cup semi against La Rochelle ....
The Springbok will inherit a side which has gone from last ditch losers to a side which turns it on as the clock runs down.
Trailing 26-20 to Blues we scored three tries in 13 minutes crushed the visitors and sent the home side through 46-26.
Tom Marshall scored two with Jonny May (right), Ross Moriarty, Henry Purdy and Mark Atkinson all crossing Billy Twelvetrees had something to prove and converted four with Billy Burns notching a penalty and a conversion.
It was a pulsating game and an encourgaing one for 47 year old Ackermann . He's currently the Head Coach of the Lions and will come over once the Super Rugby season is over.

He has 13 caps, a wiunner at the 2007 World Cup d has played for The Blue Bulls, The Lions, The Griquas and the Sharks as well as getting vital English experience with Saints.
pqs: qs: