The Entertainers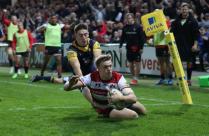 Thorley Try
By New Cherry
September 23 2017
Credit to Wuss for fighting hack when they looked like they might be swamped (they were down to 14 at the time) but black marks to BBC News for showing the wrong try in their highlights today. The one straight after half time when Trinder announced his arrival with some sublime running, one-two and offload to send Billy in could well be the try of the season - at least at Kingsholm..
For a long time it looked like a try bonus poiunt for Glaws would be a formlaioty.
Insead we are happy to settle for a 24-19 win the visitors earning their losing bonus point.
Thorley notched two in the opening 20 minutes bBut Perry Humphreys replied twice for Wuss who were in with a shout vin the cloisngt stages thanks to Ryan Mills' three penalties.
pqs: qs: