Beasting Required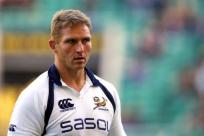 By New Cherry
October 2 2017
Monday morning may not be very pleasant at the Hartpury training grounds. That 57-10 defeat at Sharks lived up to its weekend newspaper analysis - humiliating and embarassing ..and lots of other things ..
Johan Ackermann said all the polite things after the game. Hopefully he's not being so polite on the training ground as some real effort needs to be put into the set-piece, which was so long the strength of a Glaws pack.
Individuals have bad games, people kick the ball away stupidly and pay the price, and the opposition can have players such as winger Byron McGuigan turn it on on the night and run in three excellent tries.
That will all happen, but what shouldn't happen is the margin of defeat when you have invested so much in top class talent.
A bounce back against league leaders Northampton is required this week and it may happen..
Get that scrum machine out lads and give it some hammer.
pqs: qs: