Future not so rosy, more cider please.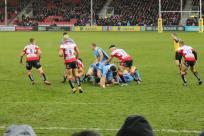 By Steelman
December 5 2017
I boarded the train at Kemble Station aglow with an optimism lit by the price of my cheap day return. Effortlessly the miles sped by ,leaving Wiltshire's blue skies behind as we tumbled down to the murky grey mists of the Bristol Channel. The brief journey over, I was disgorged into a sea of red and white shapes sweeping me along to their place of commmunion, Kingsholm.
My notably mean nature ensured that I would be viewing the match from the Shed, rather than parting with £56 for a seat, and this would turn out to be my only conciliation later. Spartan it was but my view was unobstructed, well except for when I put my hands across my eyes, all of course part of our prayers for help which went largely unheeded.
Our boys looked wan and pastey in their light blue, Glaws large, athletic, and confident. In their red and white and this a team down to the bones, with 14 men unavailable!
Peep! and we were underway and things went very well for 2 minutes, and then McLean walked off, having had enough to be replaced by young Fowlie of whom many good things are written, and soon after that he was in the game in support of a sparkling break by Lewy, but was unable to cleanly collect a knee high pass, and although he touched down, the TMO was always going to say "no". Now the play switched to our 22 where Ludlow running a great cut back line sliced through our line and under the posts.
But no, sir wants the TMO to check and yes it's forward, as we can all see on the screen,and tellingly the Shed has gone deathly quiet, which means of course, that the try is awarded! Now the shed is laughing and talking, it's gonna be their day!
Our boys still believe, however and soon on a 3-2 overlap at speed on Glaws 22, until Fowlie throws a pass at Cowan's ankles. Another one butchered. Next we get a penalty that Bell coverts. 7-3. Swiftly followed by a penalty to Glaws, Paice coming in the side, aggressively at the breakdown, 10-3. Up to this point we had been looking the better team, but now the cherry and whites with Twelvetrees, Burns, and Ludlow becoming ever more prominent, were starting to create danger, and soon had 3 more points on the board, 13-3. Tommy Bell had by now attracted the eehawws from my noisy Shedmates, who have a natural instinct for a victim, pecking away like crows on a carcass, so when the feckless TB took a 30 yard penalty right in front, you didn't need to watch. Not to worry, because next minute, our driving maul plunged over, with Petrus du Plessis celebrating like Boris at a banquet. 13-8 ,extras not to difficult, eehawws again!With half time approaching we are penned on
our line in desperate defence, a long pass is thrown and Burns slips around a grasping Bell and under the posts, and thank you Twelvetrees that's 20-8. Our familiar kick off soon finds its way back to our 22 and when Burns delays a pass our intrepid skipper appears as a missile aimed the chippy little Heinzs head and they both have to leave the field. At that point the game was lost.
The second half was played out to the inevitable conclusion.Burns impishly skipping away from weak Irish tackling to go under the posts straight after the break. Extras added 27-8. Then 10 minutes of valiant defence and wholesale substitutions, a cameo from Reid, who decided that he didn't fancy it, all followed by a really good Glaws try by Polledri, who swatted off a couple and outpaced Bell to run up the castle drawbridge again. And 2 more for the kick 34-8. Irish were nothing if not feisty and our normal kick off lead to a spilt ball. Scrum and Paulo impressive throughout, plunged over with Bell mercifully away from his tormentors adding 3 more. 34-15. Game on? No! Glaws back on our 22 cross kick to Purdy who goes in at the corner, probably although it looked tight, and with Twelvetrees miserably missing the kick, possibly his only error in an impressive afternoon, and that completed the scoring at 39-15.
There was still ten minutes to play, which were a showcase of our team's courage, desire,and fitness, but we will need more than that to survive this season. Gloucester were there for the taking today, and I think those two butchered try scoring opportunities lead in part to the fury in Paices awful tackle.
The ref signalled the end. Once again were victims of a dodgy call, but that's the way with losing teams. Thankfully the train on time and warm. The village pub was beckoning. I knew that there would be no mercy shown there.
Best face the music.....
pqs: qs:
Future not so rosy, more cider please.
Posted by: The Craic www.londonirish.org (IP Logged)
Date: 05/12/2017 13:51
What do you think? You can have your say by posting below.
If you do not already have an account
Click here to Register
.
Sorry, only registered users may post in this forum.