NEWS: Coaching and Saints Conundrum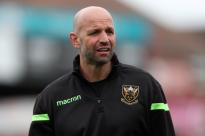 By Robby Richmond
December 20 2017
Robby Richmond has kindly taken the time to put together his thoughts on saints coaching conundrum, it's an excellent read...
Getting it right, getting it wrong, & finding a way to get it right for everyone.
How did this happen? I mean seriously, how did we find ourselves in this position? For those with long memories you'll probably realise this isn't a new problem or position for Saints.
In fact, some closer analysis bares deep comparisons to the beginning of the end (relegation survival in 2005 thanks to Mark Cueto) and the end of the beginning of another end (The absolute battering we got off Clermont in the European cup quarter final of 2015).
Shipped 64 tries, an average of 20+ missed tackles, an average of 12 penalties given away per game. But one thing you can't quantify with stats is confidence. Though as many have seen in the past, this is a side whose confidence is shot to pieces.
Anyways, we're looking for a new DOR & apparently a new Lineout/Scrum coach too, eventually…
When someone can…
Y'know…
It's quite amusing to see journalists throw names around like poop on a wall.
Imagine how some of those phone calls with Mark Darbon might go…
Gatland?
Darbon: Hi Warren fancy working with Dyl every day?
*Phone clicks*
Darbon: Hello? Warren?
Dean Richards?
Darbon: Hi Dean, fancy working with Nobby every day?
*Phone clicks*
Darbon: Hello? Dean?
Mike Ford?
Darbon: Hi Mike, Fancy working at Saints?
Ford: <VERY FUNNY BUT REDACTED BY MRS TED>
*Phone clicks*
Wayne Smith?
Well, never go back they say…
Even though he offered to help us out last season apparently. But turkeys don't vote for xmas do they? If Wayne had returned whilst Jim was still he'd be an enormous threat to his job, a ready-made replacement. Though, that pay off is still hefty isn't it?
What's frightening from a supporter's standpoint is this-
1- 18 months left on Jim's contract, it seems as though there was no shortlist to replace him.
2- That, you would assume, means they were thinking about giving him an extension or were thinking of recruiting internally.
Of course, there could be shortlist & a load of names thrown about are just to keep us plebs from pointing out they're not very good at their jobs. But here's the thing. It's not the 1st time we've had this problem is it? Think back to this time last year…
Word around the campfire was that had we lost to Exeter the elephant would have finally been given the old heave ho. We won, in the last minute, by a point. Somehow bought Nobby a years worth of job security. Meanwhile a fortnight later King was unceremoniously canned.
So this is where concerns about the board surface again. It was alleged that Jim offered to leave, I've no idea how true or not this is. But we came very close to getting Pat Lam before he decided he'd go to Bristol instead.
Then there is the WORLD WIDE SEARCH for King's replacement…
Which saw us talk to (it is alleged) Ben Ryan, Johann Ackermann, Rory Teague, Glen Ella & Gregor Townsend…
We ended up promoting from within. Which is strange, I didn't realise how good our Academy coaches were. *
The deal breaker on recruiting outside of our own drinking pool? Working with the elephant. Even when his duties were reduced, it seemed to make little or no difference. Gentleman Jim was basically becoming Fireman Sam, putting out fires left, right & centre.
Of course we ended up bringing back Dowson, much beloved & admired by staff, players & supporters alike. He's a voice that a lot of the young players can learn a great deal from but if they were planning to mentor him to replace Jim? This, in of itself, is incredibly ambitious. Straight up, that's tough to type. Like everyone, I love Phil but would he be ready to become a DOR on 2 years of coaching? Come on. I expect Dowse to become a great coach, maybe a brilliant one but asking that of him smacks of Grayse in 05. Or worse still, Grayse Jr other week.
They'd be setting him up to fail. As ever, these issues come from the boardroom. The Board should set the tone for a club. Some supporters have recently been quite dismissive as to their influence. To me, respectfully, that's frighteningly naive.
So here's some thoughts and comparisons between cultures & ethos, I should warn you though, I'm not going to pull any punches. Yes, I'm the most cynical person you'll find but that's principally because once upon a time I was the most idealistic person you'd meet. Eventually, it grinds people down. Convenient then, that is what seems to have happened at Saints over the last three years or so.
I'm going to write here about building positive work environments, team attitudes & cultures, ethos. But as examples I'm going to refer to Wayne Smith & Alan Solomons tenures at Saints & compare & contrast them with Jim, Nobby & Co.
Finding someone to enforce a new culture normally needs to have one already in place somewhere. We've a board that's just changed & no one added to it brings any real rugby knowledge. This already leaves the club at a disadvantage.
Ok, you're probably reading this and saying;
Yeah but Bealer is on the board.
Yes, yes he is. When was the last time he spoke in public? What does he do at board meetings? Enquiring minds would love to know. At this point, until someone says other wise I'm going to say he's checking his emails & playing Clash of Clans on his phone.
I told you I was cynical.
In the long run this is why I feel letting Jim leave is a mistake. Instead, we're going to allow him to join Worcester, Cardiff or Wasps & take all of his knowledge with him- Principal frameworks, coaching strategies & reintroduce a winning culture elsewhere.To not offer Jim a place on the board will come back to bite us in the arse eventually. But as many have pointed out Jim's loyalty to his lieutenant has ultimately cost him this job. However, it's kept his core beliefs intact, his framework, and his strategies.
Building a culture doesn't happen overnight. It takes time, building trust, proving to players & staff that 'it's working' is often intangible & only seen in results, performances & trophies. Sometimes you'll be halfway through the process & it looks like failure. For us that looked like 2011, that looked like losing league semi's & eventually a final, to the tigers, in the most spectacular dogs dinner of a way.
Hold Steady.
Wayne Smith had an authoritative, affiliative and coaching style of leadership; Slowly building what can be identified as a Championship culture which focuses on both results and relationships. From a results standpoint, Championship Cultures have a strong sense of duty & purpose. They define the specifics of what they want to achieve & instill a passionate desire to achieve it.
This means very high standards for the group & offering them with candid and frequent feedback on areas of improvement, both positive and negative. In addition to results, championship cultures place a large focus on relationships. The group is treated with respect & valued for their contributions to the team, whether major or minor.
Teammates take pride in their roles because they know their value to the team & feel a sense of appreciation for playing with one another. The coaches want to form solid connections within the group to help the team feel respected and begin to compete at a higher level.
Since they feel valued and appreciated for as people, the group buys into the goals for the benefit of the entire team. Smith created a vision for the team that kept the squad focused on the goal over a ten-month season & formed bonds and feelings of belonging to the organisation. Utilising footage from the HBO/BBC television show Band of Brothers.
That's right, the Saintsmen.
This instigated an ethos and culture around the club that quickly turned results and performances around, unifying the team behind one common goal. This approach was effective when the stress of losing a run of games pulled the group tighter as we focused on working hard for each other on all the small elements that didn't require talent. This created a large energy spike in games, which created more attacking opportunities and a resilience when defending.
Inheriting a squad with mixed abilities, he had to identify strengths and weaknesses and then up-skill squad players and push international players to produce a high level of performance in training to drive standards up across the board.His coaching leadership approach allowed him to suggest different techniques to individuals to help them build lasting personal strengths that made the team more successful.
Having arrived at FG from Super Rugby meant Smith & his staff were faced with something of a culture shock and quickly pinpointed a need to modify methods of coaching & communication. With no relegation in Super Rugby it allowed a heavy focus on performance without having to worry about results. Conversely, the opposite is the case in the Aviva Premiership where there is rarely a dead rubber and even fewer weekends without a game.
Demanding a sharp upturn in standards from individuals helped to focus the players on specific areas of weakness in their game as well improving elements of the game like defense that required good communication, good concentration and a good tactical understanding from everyone on the field whilst performing at a high intensity.
"A common mistake among those who work in sport is spending a disproportional amount of time on X's and O's as compared to time spent learning about people."
Mike Krzyzewski, Duke University & Olympic USA basketball coach
Over the course of his career Smith had cultivated an eagle-eyed ability to identify the minute flaws and areas of development in most players but also had a wide-ranging skill set in order to aid player improvement. In doing this it eliminated a culture of blame between the players but also meant that the constant highlighting of errors would often mentally drain individuals and began to generate a mind-set of personal self-doubt rather than as part of a championship culture.
This validates group members with positive empirical evidence of improvement (you and I call this stats). Smith highest standards would often mean he'd pick out the 1 missed tackle rather than congratulate the player on the 10 they made. With the Super Rugby season being a great deal shorter than the premiership, Smith over time had to contend with elements that were new to him & his coaching team- the mental and physical grind of the ten-month season,having to contend poor conditions & variable pitches across the country, the varying strength of the opposition side and pressure of needing to finish inside the top 4 and avoid a relegation battle.
The need to win was constant, the need to perform to the DOR exalted standards equally so, but by wanting to treat every game as a cup final had a long term negative effect as it added to the pressure and drained the group of energy. Whilst driving standards & wanting players to improve is imperative, discovering a diverse means to freshen up the message, to offer praise & criticism in equal measure allows an opportunity to cultivate a positive atmosphere inside the squad that lasts longer over the season.
Identifying the opportune time when to increase pressure on improving standards and when detecting signs of stress or external pressures to temper those demands for high standards and individual improvement. One constant that remains is developing a relationship with the players, built on trust & honesty but augmenting the model used by Smith & ensuring in building confidence & self-reliance in the group to perform skills/techniques without fear & at a consistently high standard.
"Good coaches coach the discipline. Great coaches coach the person doing the discipline."
Damian Hughes
Trust is the cornerstone of building the relationship, not just between player & coach but also between the players themselves. It breeds confidence in one another & quashes tensions that threaten the relationship & gives it scope to evolve over time.
So when Dowse was out of contract at Saints they wanted to keep him but couldn't agree on a deal, I've no idea if coaching was or wasn't involved in that. But Jim identified him as a long-term answer to what seems like a short-term problem, the forwards. It'll be interesting to see if we see more success from the academy in the future. We've got a bit of a collective issue around it. We don't have a massive catchment area to work in like Exeter or Sale or Newcastle & Sarries & now Wasps have plundered it. As supporters we've always had a desire to see young local lads play.
But we've struggled with recruitment as everyone knows. We don't poach anymore. We get poached on.
Yet consider this-
If we'd given Dowse another contract would we have finally seen T come through into the 1st team? I dunno.
Even then T was given a run in the team through injury & necessity & not finding a replacement for Samu who wouldn't arrive for another 12 months. Trust is earned. Though what had happened since we'd won the league was opportunities had lessened & lessened, we became conservative. I can even pinpoint where it started to happen, a shift in ethos.
January 2015, in an away game to Sale. On that day Saints were out-fought & out-thought & Dimes & Co has set out a blueprint for others to follow. By May other Aviva sides were employing it.
And of course it's all been downhill from there. Nobby is a coercive leader demanding immediate compliance, employing blunt, strong-arm tactics. These work when you're 18-23 & wide-eyed as the players he inherited were, Woody, Dylan, Courts, Dowse, Alex W, Mikey, etc. However, the same tactics won't work once most of those players have 50+ England caps or are lions or are in their late 20's or have heard it over & over for 10 years. It's uninspiring.
Slowly but surely the methods employed polarised those that brought the club success. Here is Lenconi's 5 dysfunctions of a team to elaborate.
Solomons was also a coercive leader, again demanding immediate compliance, employing blunt, strong-arm tactics, micro-managing players to employ exactly what he wanted and expected down to the minute detail. In comparison to working with Smith some players were unable to deal with this level of candidness & immediately made it difficult to build a relationship or trust between him and the players. The regimented brand of rugby was also a stark contrast to what the players had employed, enjoyed and had proven fruitful.
Only certain players were allowed to carry the ball whilst others had to clear out, there was strict areas of the field we weren't allowed to run the ball more than two phases before kicking.
Sound familiar?
This quickly created a toxic atmosphere, greater unrest within the group and the Northampton mafia expressed their feelings to Uncle Keith and combined with their lack of effort in the games Solomons was sacked for 8 loses on the bounce. The coaching relationship is seen as integral to individual coaching, but less is known about the nature of the relationship within a team-coaching context.
Whilst specific clarity in the message to the playing staff allows for the implementation of an exacting game plan with exquisite detail, the misgivings of the players to a rigorous and intractable plan & with no right to reply meant the bond of trust, so important in building the ethos of his predecessor were unraveled inside of a few weeks.
In comparison, we've seen the same thing happen but over the course of 3 years.
Solomons was unwilling and unable to stand by his word, and his word is his bond. Some of his countrymen he had brought to the club were given a longer leash than some of the clubs stalwarts & developed into a 'them & us' mentality. With the trust gone, the game was up. The same thing now, not with Jim but with Nobby & to some extent King too.
At the start of the relationship, coaches want to earn and offer trust to players. Essentially, as a coach you want to be able to create a psychologically safe environment, in which individuals are willing & able to open up about concerns they might have about their own capability and those of team members in terms of team performance and the delivery of team coaching goals.
So here's the thing, Nobby isn't a bad coach, far from it. He can point to Dyl, Courts, Samu, Woody, Cal Clark, Alex W & T & say "I did that."
But long-term reader of the COYS/ Marching on will probably recall me saying time and again the phrase 'adapt or die'. And that's just it, Nobby hasn't. What worked with young lads in 07 just won't in 2017. The generation gap is huge now. Not just with senior players but Academy lads too.
There's two types of managers, you might have heard this one-
1- You've got a problem there mate, you better fix it.
2- You've got a problem there mate, don't worry I'll fix it for you.
Problem is that Nobby falls into a 3rd category; he's a coach who won't tell you there's a problem. He probably see's it, he probably knows how to fix it, but does he know how to explain it? Does he want to? So many questions, so few answers.
"My focus is on improving these young men as players and as human beings. If I do that, the results will come."
Bruce Arians, Head coach of Arizona Cardinals
Successful leaders capture their audience, plant an idea within the playing group by drawing on their knowledge, experience and perspective, to guide, correct and challenge whilst the roots are taking hold. Once the roots of the strategy are established they look to empower the leaders within the group to take ownership & drive standards whilst supporting their leadership development.
Saints have stopped doing that.
When Dyl stood down we expected senior players to take up mantle.
That's simply not happened. Fodes, Smyler, Woody, Dowse, Dicko, Daisy, unfortunately they've played a part. But again no one person is to blame, not Nobby or Jim or the board or anyone else. It's a collective dysfunction. But again we come back to the problems of recruitment. When Jim arrived he brought a cadre of young England A players with him, they evolved, improved, became regular England internationals. Then Dimes introduced some under rated Boks to bolster the squad. All improved & most…
Again, Nobby played a big part in this. So too did Grayse, who took Symler from a 60% goal kicker to an 85% goal kicker. Nobby helped build Tiny Tongaʻuiha & Samu Manoa into legit world-class monsters. They weren't replaced but also the game plan revolved around a lot of the other players picking up the slack to ensure they could perform in the eye-catching manner they did.
For example, Samu couldn't run a lineout, wasn't the best jumper either, often found himself lifting. He wasn't the best scrummager either. In big games Nobby would pick Samu & Courts together in the 2nd row & more often than not we'd lose because the set piece didn't function. Other players would have to cover Samu so he could stand wide in channels. Ok, a lot of players at other clubs do this too, but Samu, who some journalists will tell you we haven't replaced & it all went tits when he left forget or didn't realise his liabilities.
This might sound like a dig at the lad, it's not intended that way, but look at the difference when at Toulon the team isn't built around him. So then we spent a summer trying to bring him back to the club. After we'd just signed Picamoles? (Who had similar liabilities too)
Recruitment. See, here's what worries me. We can't spend money like Sarries or Bath or Wasps or even Sale now. We're a PLC. The best comparison I can make it that many AP clubs are going down the same route as county cricket. After the ashes yesterday morning Geoff Boycott made a brilliant point about the counties almost all of who are seemingly struggling to survive financially. So they make decisions based not on Cricket (or rugby in our case) but on money, on staying out of debt.
This is saints.
Saints made a profit for 15 years under Robson, good. Yay. Where's it got us? I mean in the long run? Where's it got us? Do we get a trophy for being well run? Off the pitch the match day experience is a flustercuck. Poor quality food & beer, poor experience, poor service. But it served as a good distraction as the rugby went to poop over the last 3 years so…
So where do saints for from here? Good question isn't it? I have serious reservations about the board being able to get the successor right & with no disrespect to Alan Dickens if he gets a decent run of wins going post-Xmas he'll get the job. Our board's mindset seems to be not one of lets get the right person, if it was they'd have had someone lined up. They knew this day was coming, surely, even if they've only been here a short while (Darbon) No, the County Cricket mantra is recruit from within cos it's cheap & easy.
Again, that's not a dig at Alan, honestly I do want him to succeed, if only to prove Jim was right to promote him. But with Jim leaving we've basically screwed our recruitment for next season, unless we do actually recruit a big name & someone who'll coach players on, teach them.
So again, we look at the options & it all gets a bit depressing. We've missed the boat on Lam, Ackermann, Townsend, all former Saints, who know the club & also on Dave Rennie, all these lads (asides from Gregor) are Sons of Smith.
All played & coached under Wayne Smith.
That's a unique group in the AP (& some in NZ) of players who played under Smith whilst he was coaching at Saints. Ali Heapher, Rob Hunter, Bruce Reihana, Paul Diggin, Tom Smith, Ian Vass, Paul Grayson, Joe Shaw Johan Ackermann & our kid are all coaching now at the top level.
I've no idea if they'll ever coach at saints (again for some of them). Our beloved Digger is still there working & learning, earning his trade. But do we have to have a former saint on the coaching staff? Is there a desire for the supporters to employ a familiar face? All these guys are at various points in their coaching careers. It's worth pointing out that Exeter, who are flying, well done, weren't going anywhere until Ali & Rob showed up. But the press want you to think that Baxter did it all himself.
To be honest, there's a real opportunity to take the saints forwards. I just don't think anyone currently at the club has the gumption or the ability to do it-
A complete rejig of the coaching staff hierarchy more in line with something that focuses on player coaching & improvement.
Some clubs are already doing it. It's comparative to the NFL coaching selection.
Director of Rugby
Head of recruitment (Ad-hoc support of a consultant agent/agency)
Head Coach
Head of Analysis & tactics
Scrum Coach
Lineout Coach
Breakdown Coach
Kicking Coach
Defense Coach
Attack/Skills Coach
Academy Coaches
Coaching specifics, more one on one, more conversation, more analysis, shifting away from the 'sent to Coventry' or 'he's just not good enough' approach. Set goals and work-ons that are attainable, give challenges that push players harder but most of all, new voices and new ideas. From there we can build a new culture, start again & look to get back on top.
Be warned though these things don't happen overnight. That's the only thing I know for sure.
pqs: qs: