News: Northampton Saints v Saracens Match Preview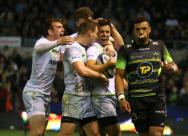 By HRsaints fan
April 5 2018
HRsaints fan has kindly put together a match preview for Saturdays match against Saracens (2pm kick off for those of you who like me thought it was at 3pm) Let us know your thoughts below
4th time lucky??
Four games to go of this Annus Horribilis and what a year/season of rugby it has been. There was real optimism last September – well I was optimistic I don't know about the rest of you! Jim had made some good signings (in my humble opinion) and we all thought that there was no way that Saints would return to the ails of the 2016/17 season which saw them slump to ten losses out of the twenty two games played and a finish outside of the top six, all which meant a nail biting play off to secure Champions Cup rugby.
Now I know that "what if" is a useless phrase, but I do wonder 'what if' we hadn't won that play off and had dropped into the Challenge Cup competition instead? I doubt that our season would have been much different overall but one good thing would have come out of it - Saints wouldn't have had to play our opponents this coming Saturday more than twice; wouldn't have shelved 15 tries to 3 against, and 129 points compared to a miserly 27 across two games in the ERCC.
Furthermore, the team would have had most of the season to recover from the horror show that was the first Premiership game of the season where - in a showcase in front of the television cameras at Twickenham – Saints were 41-3 down at half time, finally losing 55-24 (and shipping 9 tries in the process).
Anyway, last Saturday found the wife and I (and some Irish friends of ours) sitting in the Curragower Pub in Limerick surrounded by a host of Munster supporters who, for whatever reason, were unable to get tickets to Munster's quarter-final battle against Toulon but wanted to see the game on Sky. It was great to be there as a neutral although it was hard not to get caught up in the game, particularly with its usual Munster conclusion of nicking it at the end. There was however a general agreement that Stuart Barnes is the most annoying rugby commentator currently alive.
As I watched the game, my thoughts kept wandering back to the Saints, and wondering when we might get back to the dizzy heights of competing with (and not just playing against) the likes of Munster, Toulon, Racing 92, Leinster etc. I must confess that HungryLikeTheWolf's optimism about next season and the type of rugby we might be seeing Saints play is starting to rub off on me. I have enjoyed the Boyd Watch posts and the clips of the games from Super Rugby. But I also think that there is no magic wand that will suddenly morph this current Saints squad into a Northern Hemisphere version of the Hurricanes. It will take time and patience, both from the fans and, I suspect, the players. So, in that respect, as sixth place is - to all intents and purposes - well out of reach now, we are currently looking at a forthcoming season in the Challenge Cup which, in my humble little opinion, would be no bad thing. At the very least, we wouldn't have to play Saracens………
Sarries must love Saints. I know that teams talk about respect for the opposition but – really? Why would they respect Saints? We are their favourite punch-bag. Saracen's are just coming off a disappointing result from their quarter-final against Leinster, having only been trailing by one point at half-time but eventually running out 30-19 losers. Much has been said about the alleged tiredness of the English lions compared to their Celtic counterparts. I don't know whether the statistics bear this up, but it didn't seem apparent in that particular game. Regardless, Saracens will now undoubtedly be turning their sights back to the Premiership and to the 8-point gap behind the defending Champions and current leaders Exeter. Saracens run in is Saints (away), Bath (home), London Irish (away) and finally Gloucester (home). For the vaguely interested, Exeter have Gloucester (home), London Irish (away), Sale (home) and Harlequins (away). So poor old London Irish have two home games against teams fighting for the top slot of the Premiership (it is for this primary reason that any talk of another team being relegated is, I think, misplaced). My take on matters is that I can't see Saracens catching Exeter, but they will want to secure second place and gain a home advantage in the play-offs. That will mean seeing off the chasing pack of Wasps, Newcastle, and even, surprisingly, Tigers and Gloucester. So, the outcome of this rather long-winded explanation is that I cannot see Saracens going easy on dear old Northampton Saints.
But, as the old Klingon proverb goes, revenge is a dish best served cold, and there is no doubt that in this particular game Saints have a lot to play for. Not a Champions Cup place, or a play off place, or even to ensure Premiership survival, but simply for pure old-fashioned pride, both personally and for the badge.
To redress this seasons' scoring imbalance, we need to beat Saracens by 123 – 0 scoring 18 tries in the process. Hurricanes take 2 anyone? I think every Saints fan would be ecstatic with a one-point victory achieved without letting them get over the whitewash. To do this will need a complete 80-minute team effort and that is something that has not been seen all season.
In addition, some of the Saints players who will grace the pitch on Saturday will be playing their penultimate home game. Some are already true Saints legends; others will be playing in a rather uncertain world of not yet knowing who they will be playing for next season. Nevertheless, what we all need and want to see is not the meek performances that have become all too familiar against Saracens this season, but a performance that puts a real dent in Saracens charge for the play-offs. We owe them that much at least!
I know we all want this season to be over, and, thankfully, it will be soon. Only four more games to go (two home and two away) but the away games are against Tigers and Wasps both of whom will be fighting not only for a top six spot for Champions Cup qualification, but also a top four finish for the play offs. So, perhaps, there is more suffering yet to come…….
Both my head and my heart seem to be whispering that another home loss is looming. I sincerely hope not, but I fear that the mental scars of the three previous encounters may prove to have not yet healed. Out of the nine away games Saracens have played thus far this season, they have won five, with such notable scalps as Falcons, Sale, Wasps and Tigers. Saints home form has, as we all know, been patchy, winning only five out of the nine games played. It will be great when Fortress Franklins Gardens is re-established once again.
For those going on Saturday I hope you really enjoy the game. I also hope that my pessimism is not borne out on the pitch either on Saturday afternoon or for the remaining games of this season!
pqs: qs: