NEWS: Tigers v Saints Preview Now with Teams up!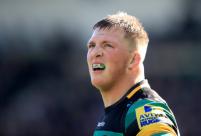 By PelerinStJames
April 13 2018
PelerinStJames has kindly penned the match preview for Tigers vSAints, let us know what you think (will include the teams when they are posted!)
LEICESTER TIGERS v SAINTS
Aviva Premiership Rugby, Round 20
Welford Road Stadium
Saturday 14th April, 2018
Kick-off: 3pm
15 Ahsee Tuala
14 Ben Foden
13 Rob Horne (capt)
12 Piers Francis
11 George North
10 Stephen Myler
9 Cobus Reinach
1 Campese Ma'afu
2 Mikey Haywood
3 Paul Hill
4 Api Ratuniyarawa
5 James Craig
6 Jamie Gibson
7 Teimana Harrison
8 Mitch Eadie
Replacements:
16 Charlie Clare
17 Alex Waller
18 Ehren Painter
19 Michael Paterson
20 Ben Nutley
21 Alex Mitchell
22 Luther Burrell
23 Tom Collins
Injury update:
Tom Wood, Heinrich Brüssow, Courtney Lawes, Dylan Hartley, Jamal Ford-Robinson, Harry Mallinder, Christian Day, David Ribbans, Reece Marshall and Kieran Brookes are all unavailable for selection
So here we are, staggering our way to the end of the season, many of us with new found temporary allegiances to Wasps and Exeter this weekend as our beloved Saints look to secure top flight rugby for next season against the old enemy at Welford Road. How times have changed at the Gardens!! It is hard to believe that only 3 years ago Saints finished top of the league, with Tigers 3rd, before which we were regularly meeting each other in playoffs and finals.
Time, however waits for no man, and I am reminded of the words of NostraCockers following our epic win in the 2013/14 semi final where he politely reminded us that the challenge is not just to win once, but to win over a long period of time. History has shown just how prophetic he was.
Since those glorious days of yesteryear, much has changed at Northampton, and if ever a team was in limbo or a transitional period it is us right now. Since I last wrote a preview nearly 2 years ago, we have a different CEO and a new Chairman; we have changed our DOR, with a temporary team holding the fort until St. Christopher arrives from the land of the long white cloud, with it is hoped the magic formula for rebirth and new growth. In the cycle of life, we are in deep midwinter, desperately looking for any shoots of recovery emerging from the desolate and deathly state we find ourselves in.
Now, it is also fair to say that Tigers have also faced their own difficulties, and only last season, parted company with their talismanic DOR, the afore mentioned Richard Cockerill. Despite their long list of injuries and ongoing internal strife, Tigers too have fallen far from their normal standards, but whilst we are flirting with relegation, they are merely flirting with qualifying for the European Challenge Cup and a trip to Siberia. Common sense and history suggests that Tigers will finish in the top 4 (yet again) and we won't be relegated.
So what to make of the game this weekend? Well, Derbies are different aren't they, league position doesn't count does it? What really matters is the bragging rights doing the double over Tigers would give us in this most difficult of seasons. Yes, you read that right….if you cast your memories back to September, 1 week after getting thumped by Saracens, we won 24-11 when the Tigers came to tea at the Gardens.
I am not sure that when was the last time we beat our Stripey friends both home and away, but it is not a common occurrence and for once we have that opportunity. Change is very much in the air at Saints, so why not change this statistic as well? For many of our players, it may well be their last chance to do so too.
We already know some of the players that are marching on to pastures new for certain, and if rumours are to be believed then more may well follow. There will be no fairy tale finish of winning a pot, but a win at Welford Road remains a significant and rare achievement for Saintsmen throughout the ages. One can only hope that the belief, bravery and skill needed to do so are summoned both individually and collectively as a team to do so and ensure our top flight status for next year. For this season, this would be as glorious a send off as it gets for what might be many of our title winning side.
Can our boys find the formula? Well, we do, after all have a recent record of one off winning results after thumpings! Sadly, my heart says maybe, but my head says no. Tigers are just too consistent, and Saints have not played with much confidence or cohesion all year. One can only hope that the Elixir of an East Midlands Derby can stir the juices accordingly to put one over the old enemy, that our veterans can raise their game and their spirits just one more time, and that on Saturday evening, we find ourselves with the Double bragging rights and Premiership status for next year assured. It may not be much, but it would provide a modicum of relief amidst the final throes of this tortuous season.
Change, as we all know, is a constant, and as we pick over the dying embers of Jim Mallinders reign, it is worth remembering and being grateful for all he and his team achieved. He took us to the top, but alas we were simply not able to stay there. Saturday gives one last chance of a taste of glory for Myler, North and company to leave Northampton on something of a high….the joy of sport lies in living the drama, the journey and the ups and downs as we invest our time, our belief and our emotions in the cause. The roller coaster is why we do it, its all about the journey not the destination.
There is always hope, and there is always opportunity….the question is which of Saints and Tigers can seize it on the day. So, my message is simple, it's time to dust off an old hashtag, and ask ourselves once again #Whynotus?
pqs: qs: