The Mike Turner Young Player of the year award 2016 -17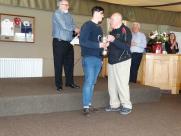 By noibla
May 13 2017
On Sunday 30th April the Mike Turner trophy was awarded in the Bidvest marquee. This annual event nearly didn't take place this year but for the intervention and at the request from the players I'm glad to say. As a result of the limited time given before it took place the numbers who attended were lower than usual for this important date in the clubs calendar and I trust that the 200 club and the Albi Travel club who jointly organized the event will organize next years a.s.a.p. so that we can make a note of the date in our calendar for the next time.
Peter Harrison of the 200 club was given the job of the compere and did us proud as usual.
Nigel Sparrow spoke about the clubs achievements this term and gave an upbeat idea of the clubs plans for the coming season thanking especially those players who are moving on for their contribution in the past tweleve months.
Herbie then had his chance as skipper to add his take on the season and his ambitions for the following season. He will also of course be officially married come next season having had his stag do in Dublin last week.
Mike Newham of the Albi Travel was asked up to hand out some well deserved plaudits and gifts of appreciation to various club members who also do important jobs in the general smooth running of the various activities and functions that are avaiable for our supporters such as the 200 club and Albi Travel. This work is the backbone in many ways of a club such a ours with limited scope for full time positions in the clubs situation, well done to all.
The main trophy of the day is of course the Mike Turner Trophy for the Young Player of the season and this seasons winner was Robin Wedlake - Millecam who was always in line for this it appears. Ralph Barkham wasn't going to let it go without a few words of wisdom though.
Not sure who the lady is but I think she recently got out of hospital to celebrate and have a lovely group photo taken with the lads.
And then onto the socializing part with Nile trying to get a Boy Group going.
We were also shown a few new dance moves before the taxi arrived. Great day out and looking forward to next year
pqs: qs: