The clubhouse gets a facelift in 2016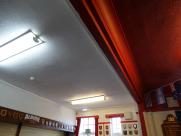 By noibla
May 26 2017
Hi everyone, not a lot to give you this time, what with the rugby taking a well earned rest.
But there is one project that the board are planning during the off seaon and that is a refurbishment of the Club House during the summer. This is due to begin in June and having spoken to David Venables I am hopefull of having the opportunity of keeping you all up to date on it's progress
These photo's were taken last summer when the club had some decorators in after the F.A.B. group had redecorated the Blue Room next door
Some of us will be aware of these changes but many won't so I'll keep you up todate on this job and others during the summer.
pqs: qs: