GARY LOVELL R.I.P.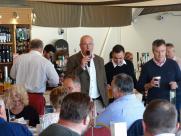 By noibla
October 13 2017
On the occasion of the recent home game against Fylde r.f.c. a wake was held at Brickfields in honour of Gary Lovell one time Plymouth Albion player who was something of a larger than life character both on and off the pitch and someone who many many ex players and supporters can relate too. None more it seems than his fellow player the present owner of Albion Dave Venables who had a close friendship with Gary. The wake was well supported with a mix of about 140 ex players and friends present in his honour and the eulogy was read out by Kevin Norris shown in the above photo.
Garry's daughter Hanna then said a few words from his family before a toast was made in Garry's memory.
After which an old friend of Garry and his family, Martin Cole the well known saxophonist was asked to play. When Garry ran the Kings Arms pub in Tamerton Foliot Martin played there many times.
When I checked the internet for Martin I found out that he is no ordinary muscian as he runs his own quartet and has a very impressive c.v. to his name having among other distinctions played on the Q.E.2 as the lead alto player, appeared on sound tracks for the BBC radio and television, appeared at many jazz festivals and has also played at Ronnie Scotts club, the 606, the Bulls Head and many others. So a very accomplished player indeed and a pleasure to listen to.
The club shirt above was a lovely touch I thought depicting the shirts that were worn at the time Garry was playing.
pqs: qs: