View from the south stand: Sale 13 Leicester 35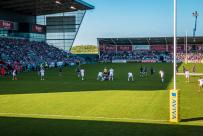 By Cap'n Major Bloodnok
May 9 2018
Last game of the season, and the potential to finish 5th, 6th, 7th or 8th. With Bath likely to get five points and Gloucester nowt, failure to win this game would make 8th the most likely final postion. Leicester had not been on top form, but they'd be looking to avoid three defeats in a row.
It was, from the start, a lovely day for a bit of running rugby. Blue sky, warm without being sweltering and two teams that, on their day, were quite capable of lighting up the game. Sale had had an encouraging latter part of the season, whilst Leicester had suffered a couple of unexpected defeats and could not finish in the top four. That was bad enough for such an ambitious team, so they wouldn't want to risk the possibility of finishing outside the top six. Add to that the curse of the TV coverage, and Sale were looking at a very difficult task to keep or improve their 7th place in the table.
Two full coaches from The Brook presaged a decent crowd and it was gratifying to note that there were no significant traffic problems that I could see as we came through an hour before kick-off: a bit of a queue on the Barton bridge, but nothing particularly serious.
Not so the queue for the real ale in the tent, so I saved myself a couple of quid by opting for cup of Boris's best coffee and went to claim my couple of square feet of south stand concrete.
---
It was fairly obvious from the outset, I felt, how this game was going to go. The only real variable was the margin of the eventual defeat.
Not that Sale played particularly badly, I thought, just that Leicester were so much better: more accurate, more clinical; better prepared, possibly. Faf did his best, Marland looked keen and dangerous. Despite some comments I've seen, I didn't think anybody on the Sale team was slacking particularly and nor was any individual player massively outgunned by his opponent. (And neither was Wayne Barnes anything other than what he actually is: a top-class referee.) No, this was down to that extra edge that better teamwork gives you, rather than individual brilliance. Maybe the desire not to lose three in a row gave Leicester that added impetus, or maybe it was just their extra experience of managing this sort of game.
Whatever the reason, Tigers played the game almost perfectly: doing enough early on to get a lead and maintain it, then cutting loose later to hammer home their superiority.
Sale's forays into the Leicester 22 were few and far between and they never really looked like threating the try line. The try we did score hearkened back to the early part of the season when all we seemed to do was score from interceptions. Even then, we tried to muck it up with a less than ideal pass to Yarde that he had to juggle a bit before running in for the score.
And that was it, apart from a couple of close-in line-outs that we managed to make a complete Horlicks of in our own inimitable fashion.
Then, of course, conceding yet another last-minute try. OK, this time it didn't snatch defeat from the jaws of victory, but it's still worrying that we seem to vulnerable in the last minutes to teams that can keep hold of the ball.
---
Verdict? Before the game, I was 50-50 about whether we could win or not. I wasn't surprised at the defeat, just a little disappointed at the final margin.
As for the season as a whole, I'll leave a proper review to someone else, but I haven't been too disappointed. A few too many games that we let slip — Bath away, Exeter at home, both Newcastle matches — a couple that I felt we were hard done by — Lyon away — and some cracking wins, e.g. Wasps at home.
AJ has settled in and looks set to be the Sale fly half for the future. The signing of Yarde has proved to be inspired. Jonno Ross is the leader we need and Faf has been 70% screaming delight and 30% hair-tearing frustration.
Roll on next season…
pqs: qs: