Squad for next year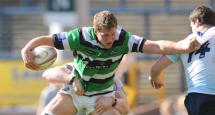 Key player.
By WW
May 26 2017
Following our defeat in the Championship play-off final we now know that a number of players will be leaving the club this summer. However the club announced on May 26th that six players had re-signed for next season making our signed squad 21 players....
We have lost some very talented and influential players. Many of them will go on to have good careers in the Premiership and we wish them well. However J-Lo has to go on to next season and do what we failed to do this season, get promotion!
The squad, so far, is much stronger than I had anticipated a week or so ago. Today 6 players announced that they had signed on for next season. Key amongst them are Chris Elder, Tom Casson and Richard Beck.
Already we might have:
Fullbacks: Chris Elder, Stevie McColl
Wings: George Watkins
Centres: Tom Casson, Pete Lucock, Andy Forsyth, Max Wright,
10's , Callum Irvine
Scrum halves: Alex Davies, Max Green, ,
Props: James Thraves, Lee Imiolek, Charlie Beech,Marc Thomas, Mike Cusack. Charlie Capps
Hookers: Mike Mayhew, Ross Graham, , Jordan Poole, Joe Buckle
Locks: Ben West, Mike Myerscough, Jack Whetton, Matt Smith, Dan Sanderson
Backrow: Richard Beck, Josh Bainbridge, Brandon Staples, Richard Mayhew, Ollie Stedman Lewis Wilson.
There are still a number of players who have not yet been announced as staying or leaving. Primary amongst them is Matt Smith who, it appears, has now re-signed. However the focus will be, as usual, on the fly half spot. We have two academy players, Sam Allen and Ben Smith, but the club shows Alex Davies as a "Universal back" which might indicate that he will play other positions than 9. Max Green is also down as a 10 and I can remember seeing him play 10 for the Academy some years ago. Fly halves do not come cheap so it will be interesting to see if we have the "bunce" to tempt a decent 10 to LS6.
Whatever happens we have retained some experienced pros. Next year's pack will look very familiar with a backrow of Beck, Stedman and Mayhew. Myersough, West or Whetton in the boilerhouse with a front row containing Beech , Mayhew and Imiolek will be a formidable pack.
There are still things to be sorted at 10 but we have retained our main centres plus we will have Elder and McColl in the back 3 .
This scenario will change as signings and departures are announced but I believe that we already have the makings of a competitive squad for next season
pqs: qs: