Team news for the Exiles match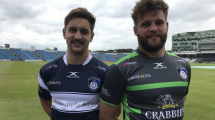 debut boys
By ww
September 1 2017
The first match of the new season kicks off at the Richmond Athletic Ground tomorrow. Our squad has been boosted by the late arrival of a dual registered scrum half from Bath. This meant that J-Lo had a bewildering 32 players to choose from when he picked his matchday 23.
As we are thin on the ground in the backs it came as little surprise when J-Lo selected the following:
15. Elder
14 McColl
13 Forsyth
12 Lucock
11 Watkins
10 Davies
9 Green
There is more competition in the forwards but J-Lo has gone with:
1 Thomas
2 Buckle
3 Beech
4 Sanderson
5 Smith
6 Bainbridge
7 Mayhew
8. Stedman
The bench consists of: Mayhew, Thraves, Whetton, Wilson, Staples, Homer & Irvine.
pqs: qs: