END OF SEASON POLL PART TWO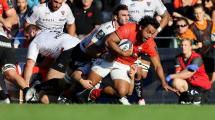 By Darraghgirl
July 13 2017
So now it's time for the second part of this year's End of Season Poll. Once again all the votes have been independently and impartially verified (by my trusty hound) and here are your choices for the second part of the 2016/17 season.
15. Best Performance by a Saracens Team. There were a couple of votes for the European Final win against Clermont and the semi-final victory in Dublin over Munster but the overwhelming vote went, in particular to the first 40 minutes of The away win at Stade Mayol in Toulon
16. Worst Performance by a Saracens Team. Thankfully no St Valentine's Day Massacre this year but there were a few "off days". 1 or 2 votes for the away defeat to Gloucester but almost everyone else went for the away defeat at Sixways to Worcester Warriors
17. Favourite Away Venue. A bit of a composite this one – stadium, climate, beer, food fans the lot. Surprisingly, given the result, there were a few votes for Sixways. Several of you voted for that amazing weekend in Edinburgh and there was also support for the Aviva Stadium in Dublin but again there was no doubt about the winner. Your favourite away venue for last season was (obviously) The South of France: ie Stade Mayol in Toulon
18. Least Favourite Away Venue. Once again, taking everything into account, where did we least enjoy? Castle Grim (not surprisingly), Franklin's Gardens, Edinburgh (someone must have had a bad day) and Llanelli were all nominated but not surprisingly, given the result, the least favourite venue was Sixways in Worcester
19. Best Loos. So I should have guessed there would be a gender issue with this one. Basically it looks like blokes don't care whereas we ladies take these things more seriously! My vote went to Franklins Gardens but most of the fairer sex, who were the only ones who really had a preference, went for our very own Allianz Park
20. Worst Loos actually this one was less of a gender issue than the previous as both sexes agreed. It was the bigger venues which came off worse (although the single ladies loo behind the stand at Bedford got my vote) and in the end it was a close run thing between Wembley and HQ but the vote for the worst public toilets went to Twickenham
21. Funniest Moment of the Season. Apart from one suggestion regarding Saints blowing the lead at Stadium MK and another concerning a Munster fan who suggested Trump could use the Sarries defence to build his Mexican wall, all suggestions revolved around Billy and in particular Billy's prayer for forgiveness before going out to get drunk in Edinburgh
22. Best Referee. Some different names this year. Nigel did get a few votes (but none for Mr Barnes). There were some good words for the French guys, Poite & Garces along with Andrew Jackson and Luke Pearce but interestingly your vote for the best referee went to Matt Carley
23. Worst Referee. Last year's best referee Wayne Barnes received several nominations in this category (someone suggested he doesn't use the TMO enough and someone else said he makes it up as he goes along.) Craig Maxwell-Keys, John Lacey and (inevitably) Graham Hughes all got a mention – but not a word for JP Doyle this year (did we actually get him at all?). But the "Sir" who inspires the least confidence in you all was Tom Foley
24. Best Media Performance by a Rugby Celebrity or Broadcaster. Will Greenwood has had this category to himself for a few years now but at least the plethora of Rugby podcasts has given him a bit of competition. There was a lot of support for David Flatman, Andy Goode & our very own Jim Hamilton, and Blood and Mud but once again no one came close to the peerless Will Greenwood
25. Worst Media Performance by a Rugby celebrity or Broadcaster Surely one day someone will displace Fatboy from this one? Won't they? Well not this year although for once there were other suggestions including Guspratt, Matt Dawson, Austin Healey, Mark Robson, Ugo Monye and an unidentified Irish Newspaper. But there could only be one winner so once again your least favourite media personality is Fatboy-come-Cockwomble, Stuart Barnes
26. And finally – The Michael Gentleman Award for the Best Contribution to the Message Board. Thank you once again for all the very kind comments towards myself – it is much appreciated. I enjoy writing and I enjoy rugby so it is a privilege to be able to combine the 2 and I am glad you like my efforts. There was also mention of Saint Ed, TPR's Headmistress (always the voice of reason) and Innings (always brings a smile). But the award this year goes to the guy who has written every preview and quite a few of the reports: Gerard aka Behind the Bench
So that's it for another year. Enjoy the summer and keep contributing to the message board. I'm sure I speak for all the report and preview writers – it is lovely to read your comments, whatever they are, about our articles. It makes us think someone actually reads all the garbage we write! And if you think you could write a preview/match report/article then don't be shy. You are welcome with open arms! Just message me.
pqs: qs: