BONUS POINT OR BANANA SKIN?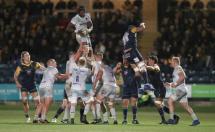 By Darraghgirl
September 30 2017
Sadly this week's volunteer reporter had to cancel at the last minute due to a Family problem and we wish him well. In the meantime a last minute stand-in was required – moi! So I'm afraid this is written mainly from the Radio Hereford and Worcester commentary (which I listened to in the bath – hence no notes) plus Twitter updates. So please excuse the lack of detail!
This was always going to be a tricky one for Sarries. Firstly, the defeat at Sixways last year was voted by readers of this message board as the worst performance of the season! Secondly Worcester have often been our bogey team over the years! Thirdly It was a 6 day turnaround from the game with Sale. Fourthly, and probably the most relevant of all, a large proportion of the team: - Jamie George, Nick Isiekwe, Maro Itoje, Mako Vunipola, Owen Farrell & Alex Lozowski – were away training with England until Wednesday night. Fifthly, Eddie Jones isn't renowned for treating his squad gently so they were probably knackered. Sixthly, we have a lot of injuries: Michael Rhodes, Billy Vunipola, Schalk Burger and now Brits. Old Albanians must have been a bit like a ghost town at training last week! So even though Worcester were sitting at the bottom of the table, winless, they weren't just going to hand us the points.
Both teams were forced into a later change with Chris Pennell coming in for his first start in 5 months and Jamie George replacing Schalk Brits who pulled out with appendicitis. Hopefully he has the constitution and corset-maker of rugby league's Luke Gale! Former Sarrie, Biyi Alo, reputedly the 2nd heaviest player in the Premiership, was also starting for Wuss.
Radio H&W clearly weren't expecting too much of their team, in fact they spent more time at the start of the match congratulation Worcestershire County Cricket Club on winning Div 2 of the County Championships earlier that day! When a looping pass from Alex Goode put Chris Wyles in to score early on (after Thompson-Stringer had been held up over the line), they seemed to have decided the game was up already. Of more relevance was the departure of Sean Maitland with what was described as a leg injury. Hopefully not serious because we really can't afford to lose him. With Liam Williams being given the week off, it sounds as though Sarries' fire power disappeared. Lozowski must have done some kicking practice because he nailed a touchline conversion for 0-7
Shortly afterwards Loz stetched the lead to 10-0 with a penalty for offside but after a promising 15 minutes for Sarries, Wuss forced Ben Spencer to carry the ball over his own try line for a 5m scrum. For almost 10 minutes Wuss pummelled Sarries' try line but the defence held and eventually they cleared their lines.
With 25 minutes gone, the local commentators had given Sarries a second try. Unfortunately the final pass was spilled and another opportunity went begging. Then Goodey dropped a reasonably easy ball giving Wuss an attacking scrum on the 22 and once again the forwards had to get the backs out of trouble. More errors when Loz overhit a kick past the dead ball line and Wuss got the scrum back. By now the H & W commentators were getting quite excited with their team and very upset with referee Craig Maxwell-Keys. Finally pressure produced some points when Wuss decided to kick a penalty for offside and Shillcock opened the scoring for the home team. Soon after the 10 point lead was restored when excellent work at the scrum by Thompson-Stringer won a kickable penalty and again Loz obliged. As half time approached it was the home team who looked like scoring winning another 5m scrum and only heroic efforts from Barritt and Tompkins forced an error from Te'o and allowed Loz to clear.
Half time produced an interesting interview on head injuries and how HIA's are carried out (and a bit more cricket chat). And then the game restarted with both teams unchanged. It appeared that Mark McCall had "had words" at half time because Sarries seemed to be a bit more interested. Sadly, more handling errors prevented any scoring and allowed Wuss to clear. Twitter now states (tactfully) "the scrum is getting messy here and a free kick is awarded to the Warriors, much to the amusement of the Saracens bench". H & W commentators were less tactful in their comments on the performance of the referee. Finally, after 50 minutes the cavalry. Mako, Figallo, Isiekwe and Wiggy took the field with instant results when Taylor put Goodey over for a second try. Loz's first miss of the evening but the score was now 3-18. Finally Maro got a rest when he was replaced by Ben Earl and with 20 minutes to go, Faz took the field. H & W guys again thought Sarries had scored when Taylor was through but the ball went the wrong way to Kruis who was held up. ("How did they manage not to score that one?") Then it looked as though Wuss might have got the ball over the line. Mr Maxwell-Keys, much to the disgust of H & W guys, didn't even go to the TMO! (needless to say, they were far from complimentary – "not up to premiership standard"). H & W were also unimpressed with Faz who at least from the radio commentary, seemed a bit off the pace but in the end it was Faz who set up the 3rd try. A lovely crossfield kick found Wyles unmarked and he went over for his second. Faz converted and Sarries had 3 minutes left to score the bonus point they should have secured already.
They had a golden chance to score that 4th try but with the line begging, captain Barritt couldn't hang on to the ball and that was that. Sarries came out on top 3-25 but just a cigarillo, not a Havana.
Mark McCall was clearly frustrated, after the game he said: "We showed some real resolve and energy defensively which is very encouraging….but it was frustrating that we had some small errors that meant we didn't secure the bonus point". He signalled out Callum Clark & Hayden Thompson-Stringer for particular praise.
Meanwhile Newcastle managed a 5 pointer against Gloucester to go top on Friday night, and irony of irony, the team who Saracens blew away at HQ, Northampton Saints, are now top of the table after a 5 pointer against Quins.
So was this a potential banana skin avoided and a good win or was it a bonus point thrown away? Well the league is a marathon not a sprint as we know. Resources have to be conserved, especially the way we're populating sick bay at the moment, but as the H & W commentators said, "Sarries never really got out of second gear today." The result was never really in doubt but Sarries once again lacked that killer punch. Over the years we have rarely been flat-track bullies (this year's double header being a notable exception), and we often seem to play at the level of our opponents. This can be great when the team we play, play well but how often do we also sink to the level of lesser opponents?
At least there is a bit of a break before we take on Wasps in the first of 3 big games (followed by 2 European games, Northampton away - not the "walk in the park" it looked like on 2nd September and a game where the Saints will be looking for revenge - and then Ospreys at home. Hopefully Maitland's injury isn't too serious and everyone else came through unscathed because we really can't afford any more damage.
To finish, the H & W commentators reminded me of a little song from my childhood which might resonate with Mark McCall
"Now we're doing a hundred and twenty, as fast as I could go
The Bubble pulled alongside of me as if we were going slow
The fellow rolled his window down and yelled for me to hear:-
"Hey buddy how can I get this car out... of... second gear!"
Worcester Warriors
Pennell, Humphreys (Hammond), Willison, Teo, Adams, Shillcock, Arr (Kitto), Bower (Waller), Singleton (Taufete'e), Alo (Milasinovich), O'Callaghan (Phillips), Spencer, Denton, Fa'Osiliva (Scotland-Williamson), Van Velze
Saracens
Goode, Maitland (Tompkins), Taylor, Barritt, Wyles, Lozowski (Farrell), Spencer (Wigglesworth), Thompson-Stringer (M Vunipola),George (Spurling), Koch (Figallo), Day (Isiekwe), Kruis, Itoje (Earl), Clark, Wray
SCORERS
Worcester (3): Pen Shillcock
Saracens (25): Tries Wyles (2) Goode; Conv: Lozowskie, Farrell; Pen: Lozowski
Attendance: 7,515
Referee: Craig Maxwell-Keys
pqs: qs: