NOTES FROM THE STOOP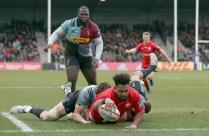 By Darraghgirl
January 29 2019
Sadly there doesn't seem to be a recording of the whole game anywhere so here are some notes from the few clips & reports I have been able to find.
Quins hosted Sarries for the 4th (and final Cup) match in this year's competition in the so-called "Derby" fixture. Credit to Quins, due to some clever marketing, the game was a sell-out even though the home team couldn't progress in the competition. Sarries, on the other hand, had every chance of going through with a win. Such are the strange rules of this competition that the 2 highest points scorers could both come from the same group – both Sarries and Worcester Warriors could finish on 16 points which would be more than either of the other group winners could muster. This meant that the same 5 point win could see Sarries progress as top seeds – or as bottom seeds! It would all depend on what Wuss would do against Waspies next weekend.
Anyway both clubs treated the competition a bit more seriously than might have been expected, putting out teams that were a mix of A League, Academy and first team players. Gussie fielded a strong-looking side for Quins which included the likes of Chris Robshaw, James Horwill, James Lang, Ross Chisholm, Charlie Walker & Luke Wallace. There was the familiar face of Nick Auterac on the bench along with Dave Ward and Dimitri Catrakillis. Saracens' team included Alex Lozowski, Nick Isiekwe and Richard Barrington alongside promising youngsters like Joel Kpoku and Dom Morris and it was good to see Sione Vailanu back on the pitch. A strong bench included Will Skelton, Jackson Wray and Mako and Billy's cousin Manu Vunipola. The RFU clearly took the game seriously, sending none other than Wayne Barnes to blow the whistle.
The home side scored early. A penalty from a high tackle was kicked to touch. From the lineout, Quins pressured the try line until Josh Ibuanokpe burrow over from close range. James Lang kicked the conversion to give Quins a 7-0 lead. Sarries replied almost straight away, winning a penalty from the restart which was kicked to touch. Vailanu caught the ball from a 5m line out and dived straight over the line. Malins couldn't add the extras so the score was 7-5. Woolstencroft won a penalty which Malins then landed from the 10m line to put Sarries ahead 7-8. Sarries could have extended their lead when a loose pass from Robshaw bounced free and Ross Chisholm just beat Morris to the bouncing ball. However the pivotal point of the game came after half an hour when Barnsie was not happy about Bothma's forearm coming into close contact with Dom Morris's head. The only debate was colour of the card but Barnes had no doubt, it was red! Sarries could have scored straight away but Morris spilled the ball with the try-line begging.
Sarries weren't able to take advantage of the extra man and there were no further scores up until half time although Quins could have gone in front but Lang missed a tricky penalty. The 14 men of Quins started the 2nd half better. A Charlie Mulchrone break won Quins a penalty which Lang kicked to touch. Quins set up an excellent driving maul from the 10m lineout which Sarries couldn't defend allowing Elia Elia to ground the ball. The conversion was missed but Quins were back in a 12-8 lead. Loz reduced the arrears to 1 with a penalty kick before Joe Kpoku was on hand to charge down a box kick from Charlie Mulchrone. He then gathered the ball, fended off a challenge from Ross Chisholm and his long reach just managed to ground the ball ahead of Elia Elia. Loz kicked the extras taking Sarries back in front 12-18. As the game wore on, Sarries extra man began to pay. Ralph Adams Hale made the 3rd try when he picked up on a neat pass from Malins, galloped through the gap and off-loaded back to Malins on his shoulder just as Chisholm attempted the tackle allowing Malins to score unchallenged.
Sarries left it very late for the bonus point try with the clock in the red but as often the case, they saved the best until last. Henry Taylor, from the back of the scrum, found Tom Griffiths. He arranged a nice little 1-2-3 with Loz, his back to the try line, popping the ball up for Manu Vunipola. He passed to Rotimi Segun, running from deep, and Segun's pace took him clear of the Quins' defence to score under the posts to make the conversion easy. Truly a thing of beauty. Sarries were in the end comfortable winners at 12-32.
For some strange reason the final round of matches takes place over 2 weekends. Sarries have 16 points so have qualified for the semis but whether we go through as group winners (and therefore top seeds) or best runner-up (and therefore bottom seeds) – we will have to wait until next weekend to find out. Currently Sarries top Pool 2 on 16 points, but Worcester, on 11 would finish ahead of Sarries if they beat Wasps with a bonus point and maintain a better points difference (Sarries' are currently 1 point better than Wuss). Saints top Pool 3 and have qualified. Pool 1 is yet to be decided. Exeter are currently on top with 15. Newcastle could also finish on 15 with a bonus point win over Bath next weekend but they would also need a hatful of tries to overhaul Exeter's superior points difference (currently 8 points better).
Sarries (or Wuss should they overtake them) will be no. 1 seeds. If Exeter and Saints finish on top of their respective pools, my reading of the rules is that they are equal on league points and wins so it comes down to points difference – Northampton's is vastly superior and I don't see Newcastle, even if they manage to topple Exeter, coming anywhere near it.
So the most likely scenario is a Sarries-Wuss semi-final which could be at Allianz or Six Fields. If Wuss don't get the bonus point win, then Sarries will probably play Exeter (or Newcastle) at Allianz. At least I think so! Whatever, the whole fiasco once again treats the paying public pretty poorly. There will be very little time to buy tickets or organise travel suggesting that the semis won't be as well-attended as they should be, even with bargain-priced tickets, if the game is at home (apparently £25 or £20 for season ticket holders).
And in case you wondered why I bothered with this – well we can't have the site crashing before the next game can we!
HARLEQUINS
Chisholm, Walker, Morris, Tapuai (Lasike), Ibitoye, Lang (Catrakillis), Mulchrone (Lewis); Lambert (Ward) (Auterac), Elia, Ibuanokpe (Swainston), Lamb (Ibuanokpe), Horwill (South), Robshaw, Wallace (White), Bothma
SARACENS
Gallagher, Crossdale (Vunipola), Lozowski, Morris (Griffiths), Segun, Malins, Whiteley (Taylor); Barrington, Woolstencroft (Gray), Lamositele (Walker), Day (Skelton), Kpoku, Isiekwe, Reffell, Vailanu (Wray)
SCORERS:_
Harlequins Tries: Ibuanokpe, Elia; Conv: Lang
Saracens Tries: Vailanu, Malins, Kpoku, Segun; Conv: Lozowski (3); Pen: Malins, Lozowski
RED CARD: Bothma
Att: 14,600
Referee: Wayne Barnes
pqs: qs: