THE CAMEL CLOBBERS THE TIGER CUBS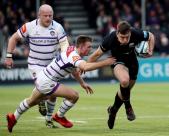 By Darraghgirl
February 17 2019
Back to the day job then and a late substitution for your reporter as unfortunately Innings had to attend to family duties. This week's visitors were Leicester Tigers – the last team to beat Sarries in the Premiership at Allianz almost exactly a year ago. So a score to settle then for Sarries and momentum to be maintained for Tigers.
Selection issues for both teams – Tigers, after Sarries, being the side biggest hit by International call ups which is probably why Geordan Murphy decided to start his Welsh International Jonah Holmes on the wing and put Jake Kerr on the bench. Leicester welcomed back hooker Tom Youngs who has been out since the teams met at Welford Road, Dan Cole, released by England, and Premiership all-time leading try scorer for the first time in 10 years Tom Varndell! Mark McCall is well used to managing these International periods. He opted to rest Celtic wingers Liam Williams & Sean Maitland in favour of Alex Lewington and fit-again David Strettle. He went for indispensable Alex Goode at 10 with Matt Gallagher taking over at full-back. Tolofua got the nod at hooker. Richard Barrington was playing in his 100th Premiership game (as was Kyle Eastmond). It was good to see Mike Rhodes fit again and on the bench. The Sarries bench did look stronger than the Leicester one – maybe it would all come down to the "finishers" not the "starters".
The weather wasn't quite as good as expected – dry but overcast with a breeze becoming stronger as the game went on. I have to admit to a slight feeling of unease – often when they have had a longish break, our first choice players take a while to get back into top gear. Sadly Mr Foley is not an official in whom I have much confidence – hopefully he would have one of his better games.
Presumably Sarries won the toss because they set out playing into what was at that stage a fairly moderate breeze. It was all Sarries from the start with Leicester barely able to get out of their own half but perhaps a little worryingly, the scoreboard did not move. Alex Goode seemed to be hobbling early on – we held our breath, but fortunately he seemed to run it off with a wonderful break from his own half right into the Leicester 22. It looked like a high tackle by Ben White but Mr Foley was having none of it. A scrum penalty against Barrington then an offside at the lineout and it looked like Sarries had definitely got on the wrong side of Mr Foley. Matt Toomua kicked the points so after 10 minutes, and totally against the run of play, Tigers took the lead. It lasted all of 90 seconds when Matt Gallagher, unchallenged was allowed to field a high ball on half way, break through the Leicester defence into the 22 and offload to Isiekwe who lobbed the ball back inside to Wiggy to score. Loz missed a pretty simple conversion but at least they were ahead 5-3.
Leicester were well ahead on penalties though, finally making it into Sarries' 22 for the first time after 15 minutes, but the thin black line held firm and pushed Tigers back to half way. Loz appeared to be tripped off the ball by Bateman when he went for a chip kick but once again Mr Foley wasn't interested. Barritt persuaded him to have another look but Mr Foley was not for turning.
Into the 2nd quarter and things started to unreel a bit. Tolofua went back to old habits and overthrew an attacking line out resulting in a dangerous Tigers attack, only averted by a bit of nifty footwork from Lewington. Leicester tried to press the advantage but once again Sarries held firm until a beautiful cross kick from Loz took play back into the Tigers 22. Finally Sarries were starting to win Mr Foley round with a couple of penalties of their own and play was again in the Leicester red zone – and once again Sarries were unable to capitalise on all that possession.
Sarries won an attacking lineout deep in the Leicester 22 and finally we thought another try would come but no, the forwards were careless in the maul and Leicester won a turnover. Sarries were lucky when a second Tolofua lineout went astray but Brendan O'Connor juggled the pass when a promising attack was on. Tigers won a kickable penalty after a high tackle from Clark on White but this time Toomua couldn't deliver the goods. Finally as half-time approached, Eastmond delivered a nice pass to Worth in his own half. Worth sold the dummy before finding Holmes outside him and Holmes put his foot on the gas for a Tigers' try. Toomua added the extras and Leicester went in ahead at the break 5-10. It was difficult to know what to think as we sipped our half-time drinks. A very strange half that Sarries seemed to be in control of and yet somehow they went in 5 points down.
By the time the second half started, the breeze had picked up considerably and was now behind the home team. 4 minutes gone and another scrum penalty against Sarries was enough for Mark McCall and Tolofua was replaced by Woolstencroft. A good period of possession from Leicester won them a kickable penalty but instead it went in the corner. A second penalty at the lineout and this time Toomua decided to go for the posts – and missed! Sarries started to utilise the wind but the turning point was probably the introduction of Skelton for Dom Day – which immediately produced a scrum penalty for Sarries. Alex Goode used the wind to put the ball right into the corner. Spencer replaced Wiggy and Sarries won a second penalty at the lineout. The ball went back in the corner. Woolstencroft's throwing was far more accurate setting up a good attacking phase – Spenno kicked the ball through and Goode was obstructed as he headed for the try line. The officials decided it wasn't a yellow or a penalty try, just another penalty and this time Loz put a simple kick over for the first score of the 2nd half, 8-10. Mike Rhodes was a welcome replacement for Calum Clark.
The wind behind them and the changes bore fruit moving into the final quarter. First a brilliant chase by Earl forced a penalty when Holmes couldn't gather a bouncing ball. Loz's final act was to put his team into a 1 point lead before Tompkins replaced him. Then a beautiful kick by Alex Goode bounced deep into the Leicester 22. Worth was slow to collect and found 5 men in black descending on him and a penalty against him. The ball went in the corner and this time Sarries got the shove on, just about everyone joined it, and Tom Woolstencroft got the ball down for the 2nd try. Alex Goode took over the kicking tee and landed a nice conversion for a more comfortable lead at 18-10.
The wheels began to come off for Tigers. An attempted clearance from their own 22 by White almost went backwards and then a penalty was conceded for offside. Goode again stepped up but this one went wide. Leicester began to ring the changes but it didn't help. Skelton won yet another turnover – he is huge! – then Leicester conceded another penalty. Again Goode went for the posts and this time landed it. 21-10 and it looked like Sarries were content with a 4 point win.
Matt Gallagher was replaced by Malins after a very assured performance, solid under the high ball and dangerous going forward. Goode reverted to full back. Baz and Koch, who had both put in huge shifts, were replaced by Adams Hale & Lamositele. Strettle broke into the 22 and the forwards took it up but conceded a penalty. Tigers cleared but Spencer absolutely read the pass from Toomua and scored a 3rd try. Goode landed the conversion for 28-10. So 2 minutes left and suddenly the bonus point was on. A long kick from Spenno got the ball back in the Leicester 22.Woolstencroft won a turnover, lobbed the ball out to Strettle on the wing and he wasn't missing from there. Goode couldn't add the cherry with the last play of the game but it didn't matter, Sarries won 33-10. Tigers didn't score in the 2nd half and Sarries go top of the Premiership.
Gallagher was man of the match but to be honest there were a lot of contenders: Goode was excellent as always – what does that guy have to do to get in the England squad? Earl was again a nuisance all over the park; Lewington put in an excellent defensive shift; both props held up well against a strong Leicester front 3 and Skelton, Spencer and Rhodes made a big difference when they came on.
So Sarries go top of the Premiership. For how long, we shall see because on Friday they visit a rampant Gloucester, who beat Exeter Chiefs last Friday night. I would be pretty certain Skelton, Spencer and Rhodes will be in the starting 15 after their performance as "finishers" and it seems Tolofua has cooked his goose. But this week let's just enjoy an unexpected bonus point win and that heady feeling being top of the tree!
SARACENS
Gallagher (Malins), Strettle, Lozowski (Tompkins), Barritt, Wigglesworth (Spencer); Barrington (Adams-Hale), Tolofua (Woolstencroft), Koch (Lamositele), Day (Skelton), Isiekwe, Clark (Rhodes) Earl, Wray
LEICESTER TIGERS
Worth, Holmes, Owen (Aspland-Robinson), Eastmond (Hardwick), Varndell, Toomua, White (Harrison), Bateman (Gigenda), Youngs (Kerr), Cole (Heyes), Fitzgerald (Wells), Kitchener, Williams, O'Connor (Evans), Kalamafoni
SCORERS
Saracens (33): Tries: Wigglesworth, Woolstencroft, Spencer, Strettle. Conv: Goode (2) Pens: Lozowski (2), Goode
Leicester Tigers (10): Try: Holmes; Conv: Toomua; Pen: Toomua
Attendance: 9,875
Referee: Tom Foley (RFU)
pqs: qs: