A BONUS POINT GAINED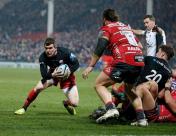 By PurfleetSarries
February 23 2019
Well I can say that it is with great trepidation that I looked forward to this match. After the excellent Gloucester win last week over then table toppers Exeter, they would be riding high on confidence and looking forward to welcoming us as current table toppers. More fears that we are missing ten (?) of our first 23 to international duties……..
My fears were warranted from the kick off as Gloucester kicked deep inside Sarries 22 and a mistake by us almost gave Gloucester the first try but for a great saving tackle from Alex Goode. Gloucester have their flying start and they are definitely up for this game. Sarries go offside and Gloucester could have the first points of the game but Twelvetrees misses his kick at the posts but rectifies his mistake on 8 mins with a successful kick. First blood to Gloucester, 3 nil lead.
Sarries try to settle and put their stamp on the game but at the moment Gloucester are disrupting and playing well. A trademark drive from Barritt ends with a high kick from Sarries which is gathered by Gloucester and kicked back to half way for a Sarries line out. It looks to be as I feared…….. There seems to be a lot of early errors and forward passes from us which is disrupting the flow of our attack. We are having most of the possession so far but are not really troubling Gloucester in the attack… however our defence is looking unusually off balance and Gloucester's Ben Morgan gets the first try of the game at the base of the posts. Score line now looking ominous at 10~0 to Gloucester after 22 mins.
The error count is climbing now and another penalty given against us for a high tackle. Gloucester go for the posts again......and score. 13 -0. We need a quick reply and get it with a penalty kick to the posts. 13 -3, a glimmer of hope, quickly dashed as Gloucester go back on the attack with a penalty advantage and kick to the cusp of our 22. Gloucester retain the line-out and are now 6 metres out. Sarries need to get onside but don't and Gloucester have the penalty and score. 16~3 Gloucester. The error count is doing us no favours. We regather the ball from the restart, building the attack but give the ball back to Gloucester from a high kick and Heinz finds touch for Gloucester. Sarries line-out........ Which is nowhere near straight. Another silly error from Saracens !
Gloucester take a halftime lead at 16-3 which is very much deserved as they are playing well all over the field. Ben Morgan and Cipriani have been instrumental to Gloucester and we need to find a way back into this game in the second half. Fast.
We get the second half under way and have Max Malins on in place of Strettle. We go on the attack trying to find a way back into the game but a combination of Gloucester defending well and continued Sarries errors hinder the attack. A tactical kicking game now goes in full flow which results in Gloucester territory and Gloucester drive forward, half through the defence of Sarries who are working hard and hold the ball up after a great Gloucester drive. Scrum to Gloucester. Sweaty palms time here as if Gloucester score then it will be a mountain to climb ! But excellent defence from the boys at the scrum to hold the ball up again. Scrum again to Gloucester who continue to exert pressure on us and force another silly error and a penalty awarded to Gloucester for kicking the ball out of the scrum. Gloucester go for the line-out........ And win it. The constant Gloucester pressure has Kingsholm in full voice and roaring on the Gloucester pack. The drive is on and we defend with everything we have and again hold the ball up. Yet another scrum to Gloucester and their sustained pressure tells as Slater goes over for the try despite our hard defensive work. Try converted and score now 25-3. Sarries now desperate for an immediate response and go on the attack with a great kick ahead...... 20 mins to play. An indication of how much pressure we are absorbing is that we emptied our bench after 55 mins. Credit to Gloucester for the way they are taking this game to us.
We attack hard and have the ball from the line-out 5 metres out. Sarries pressure results in a penalty advantage but we get the try with Mike Rhodes! Converted score now 25-10. We have upped our tempo and we are also making less errors, there may be a way back into this match…… We are now playing with more urgency and from a series of scrums Sarries have it and a big kick from Spencer gives Gloucester possession and again Kingsholm roars them on and they attack hard and go to within 5 metres…. The noise is now deafening..... and great defence from Sarries to hold the ball up again...... Scrum to Gloucester, Sarries defend hard but Gloucester go over for the try and Morgan has his second of the match. 30~10 to Gloucester. Surely there is no way back now for Sarries…. Surely not ? Sarries however being Sarries do not know when they are beaten and do not ever stop trying. We go for it and press hard, tempers are now flaring and we push hard and from a Gloucester scrum we win the penalty and kick quickly to the corner tight to the 5 metre line. Sarries line-out again and a hard drive forward.... Penalty advantage and Sarries are rewarded with a Gallagher try quickly converted. Score is 30-17. IS there going to be a final twist to this game? Our backs are now up and to be fair Gloucester appear to have eased off. With the clock going red our constant pressure tells and Jackson Wray goes over to score what will gives Sarries a losing bonus point. I didn't see that coming with 12 minutes to go. Final score 30~ 24
I will end this by saying that Gloucester thoroughly deserved the win and that the fight back for a losing bonus point was typical Sarries. We now look forward to a resurgent Northampton Saints back at Allianz Park, and let's hope we cut out the early errors and regain our momentum.
May I also say, to those who normally write the reports, how do you do it !!!!!!!!!!!!!!!!!!!! My first, and last attempt !
GLOUCESTER RUGBY
Woodward, Marshall, Twelvetrees, Atkinson, Thorley (Banahan), Cipriani (Williams), Heinz (Braley), Hohneck (McAllister), Marais (Hanson), Balmain (Knight), Slater (Clarke), Mostert, Ackermann, Kriel (Polledri), Morgan
SARACENS
Gallager, Strettle (Malins), Lozowski, Barritt (Tompkins), Lewington, Goode, Wigglesworth (Spencer), Barrington (Lamositele), Tolofua (Woolstencroft), Koch (Judge), Day (Skelton), Isiekwe, Rhodes, Burger (Clarke), Wray
SCORERS:
Gloucester Rugby (30) Tries: Morgan (2) Slater; Conv: Twelvetrees (3); Pens:Twelvetrees (3)
Saracens (24): Tries: Rhodes, Gallagher, Wray; Conv: Lozowski (3); Pen: Lozowski
Attendance:13,633
Referee: J P Doyle
pqs: qs: