SAINTS GAIN MUCH NEEDED SILVERWARE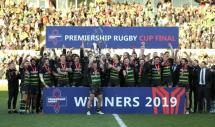 By Innings
March 18 2019
Rain, high winds, even hail, were the backdrop as I motored the 90 miles to my favourite away ground. The black clouds loomed over the lift tower as I got my first glimpse of it from about ten miles away. Nothing to encourage my spirits thus far, and indeed I was regretting my decision to leave the full waterproofs at home. However, the fickle weather decided to lay on a sunny, but windy afternoon for the actual rugby, to be enjoyed by a capacity attendance, 15,249.
As practically everyone had expected, Saints were more interested in this third-level silverware than in development, and effectively chose their strongest available side. Sarries were true to their understanding of the ethos of the competition and selected the players who have taken the club to this final. However, given that 60% of the Sarries strongest XV were in action on Saturday, or injured, the difference between strongest available and development squad was less than one might think.
I found that my seat was the best possible, in the row in front of the Saints' coaches, with one of the assistant coaches behind my right ear. His MO is to coach from afar, shouting instructions down from the back of the stands, a ploy that would have worked better if he were not competing for noise-time with the 14,000 brilliantly partisan Saints supporters who were in the sort of voice that the Gardens have missed in recent years.
It would be difficult to enthuse about the game itself. After early attempts to dominate a kicking game, Saints have decided that the best choices involved lots of running big ball-carriers at the smaller Sarries back-line, seeking gain-line, fast re-cycle and repetition. With players like Api Ratuniyarawa in the second row, Tom Wood and Teimana Harrison in the back row and Luther Burrell, Ahsee Tuala and Taqele Naiyaravoro in the back division, the plan was always going to put the greatest test on players like Ali Crossdale and Rotimi Segun.
It is, to my thinking, a considerable credit to the Sarries starting XV that they never lost their shape or intent, despite the weight of the attack that they faced. Matt Gallagher ensured that Saints gained little or no profit from their kicking from hand, an important factor when James Grayson is on song, as he was throughout the afternoon, for a deserved MotM performance. Unfortunately for Sarries, Saints seemed to have learned from watching England in their last two games and were able to switch seamlessly from a plan not working to a second that did. The Saints forwards began to exert fierce pressure on the set piece and close-in action, and both their 9s, Alex Mitchell replaced later on by Cobus Reinach, were able to deliver good re-cycle throughout the game. The Saints backs thus had good supply, feeding to size at the edges of the field. Naiyaravoro would be a priceless player if he were to learn defend and if he sometimes sought an option to run through players and release ball to support freed by the need to double-tackle himself. However, as it was, he was a menace, clearly a crowd favourite and expected to do something special with every touch of the ball.
Two or three Sarries player stood out for me. I have mentioned Matt Gallagher, and alongside him, I thought that Joel Kpoku did all that we could ask of a 19-year-old playing against vastly more experienced forwards. Fortunately, he is also very athletic, and, at over 120 Kg, large enough to mix it with his elders. Christopher Tolofua was almost perfect with his line-out work, and effective, as we know he can be, around the loose phases. Max Malins and Tom Whiteley moved the game along very well, and the former, in particular seems to be developing into a very handy 10. He needs game-time, and should be given more of it. Of all the 23, I thought that the best performance was a close call between Gallagher and Malins.
The end result was a deserved win for Saints. They needed the win, and their confidence would be rock-bottom if it had not come. It must be a worry that they seemed to pick up at least two more injuries, clearly the result of playing against a side used to playing on artificial surfaces. (My spell-checker offered me the option of 'faeces' when I mis-typed surfaces, perhaps its own comment on that whole debate about plastic pitches.) That has to be a real concern for the coaches, given that at least a quarter of their established playing squad is already absent. With only three points between 7th and 9th in the table, and an away game on Friday against Tigers, only three points behind them in the table, followed by a second-tier European visit to Clermont, and good luck with that one, a week later, the injury situation could scarcely come at a worse moment.
For Sarries, the Premiership Rugby Cup has been a valuable experience for many young players, as it should be. They have stepped up a level from their usual fare, and as we know from experience, this competition is where Sarries have seen many young players show that they have the potential to make the step onto the big stage.
And finally, a word of thanks to the Saints supporters where I was sitting. They were welcoming, willing to exchange thoughts about the game, the lift tower, the thought that Courtney Lawes is, or is not, the best second row player in England, and the travails of England rugby with their last competition game before RWC ending so poorly. I was sorry for life-long Saint supporter, Dave, whose ticket I had in his absence, and need to tell him that Sue and Geoff send their best wishes and want to know what has kept him away from the last couple of games.
NORTHAMPTON SAINTS
Furbank, Tuala, Burrell (Hutchinson), Francis, Naiyaravoro (Collins), Grayson, Mitchell (Reinach); Waller (Van Wyk), Marshall (Fish), Hill (Franks), Moon, Ratuniyarawa (Craig), Wood (Gibson), Ludlam, Harrison,
SARACENS
Gallagher, Crossdale (Lewington), Bosch, Morris (Griffiths), Segun, Malins, Whiteley (Taylor); Barrington (Adams-Hale), Tolofua (Gray), Judge (Thompson-Stringer), Kpoku, Day (Isiekwe), Clark, Reffell (Vailanu), Earl
SCORERS
Northampton Saints (23): Tries: Harrison, Wood, Tuala; Conv: Grayson; Pens: Grayson, Francis
Saracens (9): Pens: Malins (3)
Yellow card: Paul Hill
Attendance: 15,291
Referee: Ian Tempest RFU
pqs: qs: