Altogether now: "All we need is...."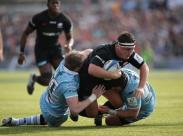 By BartyII
April 1 2019
Now, I'll be honest, I'm not much of a fan of this season's new dirge from my colleagues in the south stand. But given Saturday's performance I have to admit they're on to something, and we could do well if Nigel Wray used some of his estate agent fees/hush money to create 23 identical clones of Jamie George. More on that shortly.
A fairly beer-fuelled day began by the big screen, with my party arriving a little early to catch the second half of the Edinburgh vs Munster game. My Edinburgh-born colleague was pretty chuffed to note the sea of Glasgow fans all cheering on their "local" rivals. Although it was really the prospect of an all-Scottish semi-final that was swaying that section of the crowd, we couldn't help but think about the very slim chances of our efforts being cheered on by the Harlequins or Wasps faithful. Perhaps they would over a friendly face-to-face pint, but certainly not on the forums where everyone's opinion has a voice. The volley of snot, bile and mud-slinging here just gets worse, from our rivals as well as us. Speaking as a typical millennial snowflake with hurt feelings, why can't we all just get over ourselves and appreciate rugby for what it is, hmm? Get off your soapbox Barty.
Away from my monologue, and having already lost count of how many pints had been sunk, in the bar queue we learned that Owen Farrell's wife had gone into labour and Faz had naturally withdrawn from the side. Led to believe there is a new baby boy who presumably was born with his kicking boots on - wish all the family well! So, we had a significant reshuffle of the side, with a merry-go-round of backs, and Alex Goode once again stepping in at fly half, Williams to 15, Strettle into the side and Malins on the bench.
The late positional changes might have accounted for the shaky start, as a well worked try from Glasgow turned us all into a bag of nerves for a short time. A solid lineout was won, the ball fed across the line with Hogg drawing two uncertain defenders to create space. Hughes put the gas on down the wing before feeding Ali Price inside to dot down with barely a minute gone. Hastings added the extras; worrying times for home fans but in all honesty, that was to be both Hogg and Hughes' best moment of the match. Within minutes we were inside Glasgow's 22, and with a penalty advantage Alex Goode chipped an inch-perfect high ball directly under the posts. Bomb-diffuser extraordinaire Liam Williams rose highest underneath it and collected for the first try, and a gimmie conversion for Lozowski. As you were.
From then on Sarries game plan was executed repetitively and accurately. Spencer's box kicks and Goode's cross-field bombs had Hughes in particular under all sorts of pressure with easy yards gained, and it was only some brilliant breakdown work from the Scots to turn the ball over at least twice that kept Saracens at bay for a good 20 minutes. However any advantage from these penalties was lost, with the suspiciously less follically challenged Stuart Hogg missing touch to allow Sarries to run the ball back. Maro Itoje showed his cheeky side once again, faking to chip over the top before barrelling into contact for the umpteenth time. Lozowski kicked a penalty to take us into the lead, before a clearance kick from Hogg finally found touch. Unfortunately for him the ball had been passed back into the 22, but again Sarries were unable to capitalise
Goode and Spencer continued to martial the game, but from here on it was the Jamie George show. I don't think I'm exaggerating when I say it was perhaps his best performance in a Sarries shirt. Not only was the lineout 100% accurate, you'd be forgiven for thinking there were indeed a team of Jamie Georges on the pitch as he popped up at scrum half, on the wing, and even as the playmaker in midfield. With 25 minutes gone, the Glasgow defence was finally cracked for a second time. Williams fended off Hastings before feeding Barritt for one of his trademark straight-line bulldozing runs, drawing several defenders into contact. The ball was out very quickly at the breakdown, and the alert George acted 9, threw a miss-pass to Strettle in space on the wing to dive for the corner.
Hogg's poor spell with the boot continued as the restart went out on the full, a penalty was won from the resulting scrum, and we were inside the 22 again. Another charge from Barritt gave a platform, and as the play switched from side to side, Jamie George was there again with a fizzing pass across the line to Lozowski, who fed Barritt for a run to the line. There was a brief end to this period of dominance with a couple of Glasgow penalties, Adam Hastings taking the mantle from the errant Hogg with one belter from inside his own half that would raise polite applause from Marcelo Bosch. With the score now 22-13, Glasgow had their best spell of the match with their pack winning a few battles to sustain some pressure. However with the Warriors probing inside our 22, Will Skelton intercepted a Hughes pass inside and was bundled suspiciously easily into touch. Unlike me, he'd spotted the clock was dead, and it was half time. At this point, Glasgow had made 78 tackles to Sarries 28, with the vast majority of territory and possession to the home side.
For the second half, for some reason we decamped from our seats and took up a post standing in the corner. Perhaps to be nearer to the bar, who knows. Glasgow's resurgence at the end of the first half didn't continue in the second, and it was more of the same for Sarries with Spencer's inch-perfect box kicks, and Barritt, Skelton and Itoje punching holes in the line. With ten minutes of the half gone, the Glasgow defence were ground down as the phase count grew, Billy offloaded in the tackle for Goode to send a no-look pass to our playmaker hooker on the outside. Recycled ball and Williams cut a brilliant angle to score. Lozowski added the extra from the touchline, as the replacements began early. Barrington, Judge and Skelton had put a hell of a shift in at the breakdown and fresh legs required. Lozowski added another three, before Stafford McDowall offered Strettle a gimme intercept and another seven pointer. There was then time for Jamie George to do what he does best - a five metre lineout, a ten man driving maul, and the mole in the hole had a try of his own. Lozowski converted once again from the touchline, a very good display with the boot.
Glasgow then showed the sort of skill we expected to see, after excellent play from Hastings and Johnson freed Hogg for a run at Williams. Replacement scrum half George Horne was on his shoulder to give the away support something to cheer, although to their credit they never stopped making noise throughout. There wasn't any let up from Sarries though, as Glasgow's tiring defence were skittled by Barritt and Vunipola once again, with Nick Tompkins coming off the bench to score under the posts. At this point, George departed to a standing ovation, leaving no doubt as to who the man of the match would be.
Saracens commitment was summed up by a thundering double tackle from Max Malins and Alex Lozowski when Hogg looked to be going over in the corner, but the game ended on a bum note as right in front of our spot in the corner, Brad Barritt went over on his ankle with no one around him, and departed sat on the stretcher, before a final consolation try from a short line-out shove gave Glasgow the final say.
Unfortunately we didn't stick around to watch the ladies side's comfortable win against Firwood Waterloo, but we did stop off on the way home at Hendon Rugby Club to swap stories with some of the Warriors fans who had made the trip down. They raved about our kicking game, our hooker, and believe it or not, our hospitality. They couldn't understand why any of our rivals have an issue with coming to Allianz Park. Go figure.
We await news of our captain fantastic's injury, Owen Farrell's baby, and the exact timings of the semi-final against Munster at the Ricoh Arena. And a final reminder of the team from Saturday:
Number OOOOOONE is Jamie George
Number TWOOOOOO is Jamie George
Number THREEEEE.......
(The Real team was:
SARACENS: Williams (Malins), Maitland, Lozowski, Barritt, Strettle (Tompkins), Goode, Spencer (Whiteley); Barrington (Lamositele), George (Woolstencroft), Judge (Koch), Skelton (Isiekwe), Kruis, Itoje, Wray (Burger), B Vunipola
GLASGOW: Hogg, Steyn, McDowall, Johnson, Hughes (Matawalu), Hastings, Price (G Horne), Kebble (Bhatti), Brown (Bryce), Z Fagerson (Halanukonuka), Swinson (P Horne) Cummings (Gray), Harley Gibbins (Fusaro), M Fagerson
SCORERS:
Saracens (56) Tries: Williams (2), Strettle (2), Barritt, George, Tompkins; Conv: Lozowski (6); Pens: Lozowski (3)
Glasgow Warriors (27) Tries: Price, G Horne; Conv: Hastings (2); Pens: Hastings (3)
Referee: Nigel Owens (WRU)
Attendance: 10,997
pqs: qs: