TIME FOR THE MUNSTER MASH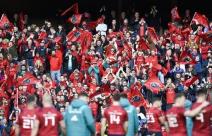 By Darraghgirl
April 18 2019
Sunday 26th April 2008. Saracens have reached their first Heineken Cup Semi-Final. Technically they have home advantage in Coventry against the Mighty Munster – but no one is fooled by that, the Red Army travel in their hoards to follow their heroes. I remember meeting little DG at the station that day, she having travelled down from Sheffield, and seeing her, a lone Sarries fan surrounded by a sea of Irish blood, flowing down to the Ricoh. On that day Ireland came to Coventry – they owned the city, the game, the cup while we stared starry eyed at a universe we had yet to join.
There are a few parallels looking back to that day. In 2007-8 Saracens finished as top seeds (having lost just 1 game in the pool stages – away to Biarritz). After defeating Ospreys in the quarter finals, Saracens were one of 2 Premiership teams to make it to the semi-finals that year – the other being London Irish. Munster finished in 6th place winning away at Gloucester in the quarters. The Heineken Cup was in those days somewhat new territory for Saracens whereas Munster qualified annually by right and had reached the final in 2002 & 2003 (both times losing to English teams) before winning in 2006. Saracens had never before reached the knock-out stages and there was a sense of disbelief both in the supporters and the team. "We don't belong here". It was hardly surprising that when it came to the crunch, it was Saracens who fell and Munster who strode on to a final they were probably destined to win. They haven't got there since.
Saracens team that day is interesting:- 15 Richard Haughton, 14 Francisco Leonelli 13 Kevin Sorrell, 12 Adam Powell, 11 Kameli Ratuvou, 10 Glen Jackson, 9 Neil de Kock (c); 1 Nick Lloyd, 2 Matt Cairns, 3. Cobus Visagie, 4 Hugh Vyvyan, 5 Kris Chesney, 6 Paul Gustard, 7 Richard Hill, 8 Ben Skirving. On the bench were: 16 Fabio Ongaro, 17 Census Johnson, 18 Tom Ryder, 19 Don Barrell, 20 Moses Raulini, 21 Gordon Ross, 22 Dan Scarborough.
I don't need to remind you what happened. It was almost HRHRH's swansong. Sarries were quick out of the blocks with an early try from Ratuvou before Munster replied with tries from O'Gara and Quinlan to lead 15-7 at half time. The second half was bad tempered with first Rua Tipoki than Nick Lloyd and finally Census Johnson all being sent to the sin bin by Nigel Owens. Jackson landed 3 penalties to 1 from O'Gara but Munster's belief and experience enabled them to hang on to a 2 point lead. There are those who still say "we woz robbed" but the result is there in the record books for all to see. 2008 was to be Munster's last appearance in the final with Leinster taking over as the Irish powerhouse.
Of course 2008 wasn't the first time the 2 teams met. There were early skirmishes in 1999-2000 (both Munster wins). The teams were drawn together in the pool stage in 2012-13 with each side winning their home tie. Saracens finished ahead of Munster as 4th seeds with Munster qualifying as 8th seeds. Both clubs made it to the semi-finals, both losing out to French opponents. They met again in the semi-finals in 2016-17 (when Sarries were reigning European Champions). On that occasion Munster finished the pool stages as 2nd seeds and Sarries as 3rd. They met in the semi-finals at the Aviva stadium with Sarries, their European pedigree now fully established, winning fairly easily 26-10 (and marching on to triumph in Edinburgh).
So what of 2019? Sarries have made serene progress through the pool and quarter final stages and reach the semi-finals unbeaten. Perhaps more importantly they now believe in their right to be there. Munster, on the other hand, came through a tricky group finishing top & winning 4 out of 6 to gain 5th seeding before beating Edinburgh at Murrayfield in the quarter finals. Once again it was the Munster pedigree and self belief which triumphed over a team who played the better rugby but when it came to it, couldn't get over the line.
Therein lies Sarries' big hope. Munster, one-time European bullies now come up against their English counterparts. Whatever happens on Saturday, Saracens now know they truly belong in these final stages so the big-game temperament shouldn't be the factor which pulls Munster through. It may come down to who wants it the most. Apparently Munster have lost their last 6 European semi-finals so let no one be in any doubt they will be up for this, they will want it very much indeed.
Munster didn't have their best start to the season but recent form has improved and they lie second (to Glasgow) in Conference A with 15 wins out of 20. They have convincingly beaten Blues at home and Benetton away since the quarters (a stronger team v Blues, less so v Benetton). Rumours suggest that Carbery will miss the game along with Fineen Wycherley while Earls & Kleyn are hopeful of making it (although I hear Earls & Bleyendaal may be doubtful). Make no bones about it. Munster are a very good team with world class players like Peter O'Mahoney and birthday boy Connor Murray. Munster will field a very strong team, possibly (if the rumours are untrue):-
Conway, Earls, R Scannell, Farrell, Sweetnam, Bleyendaal, Murray, Kilcoyne, N Scannell, Ryan, Kleyn, Beirne, O'Mahoney, O'Donoghue, Stander
As for Saracens:- let's forget the last 2 weeks. That wasn't the real Saracens – it was a team in limbo, waiting for this game. Saracens have always been a team who rise (or stoop) to the level of their opponents. They rarely tear lesser teams apart (as Exeter do) but they have developed the knack of beating the best and rising to the big occasion. They don't come much bigger or much tougher than Munster on Saturday. Mark McCall has been gentle with his first team squad since the Glasgow game so they, like Munster, should be well rested, fit and raring to go – to repay the coaching squad for a bit of down time with some very much up time. I have no doubt we will field our strongest team – but there are still a lot of ifs and buts:-
1. How is Brad ? (my number one question – please God he has got over that ankle injury and can make it onto the pitch because without him we are only half the team).
2. How is Mako? Has he recovered (as predicted) in time to take the field because boy do we need him
3. How is Billy? What state is his head in after all the recent shemozzle? Billy can only play if his mind is right otherwise he is a liability
4. How is Liam? Hopefully the hamstring twinge was just a precaution because a fit Liam is world class
5. How is Owen? Has the baby been keeping him awake? Has he managed to regain his form (which was decidedly shaky against Falcons). Hopefully a touch of paternity leave will have done the trick
If the answer to the above is a resounding "Yes" I would go with:
Goode, Maitland, Lozowski, Barritt, Williams, Farrell, Spencer, Mako, George, Koch, Itoje, Kruis, Rhodes, Burger, Billy.
The referee is Pascal Gauzere. Generally I like the French officials so let's hope he doesn't let me down. This really is the biggest game of the season so far – win this and they will only get bigger. Sarries can win but will they? Apparently Saracens are targeting European victory above everything else so we shall see. It will depend who wants it the most. Fingers crossed it's Sarries.
pqs: qs: