England take Bronze Trophy in Singapore 7s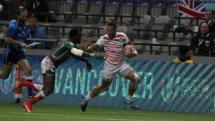 By England Sevens
April 29 2018
Fiji's 28-22 victory over Australia in the final of the HSBC Singapore Sevens saw the Pacific Islanders secure their third consecutive title on this year's World Series. The result sees Fiji take the lead in the World Series standings after they knocked out South Africa in the Cup semi-final. Fiji are now four points ahead of the Blitzboks, who finished in fourth place, with two tournaments remaining. England take the Bronze Trophy in Singapore with thrilling 26-24 win over South Africa
HSBC WORLD RUGBY 7s

SINGAPORE

Saturday 28th April

SCOTLAND
20-24
AUSTRALIA

NEW ZEALAND
32-7
WALES

ARGENTINA
14-26
CANADA

SOUTH AFRICA
25-5
SAMOA

USA
33-12
FRANCE

KENYA
19-28
ENGLAND

SPAIN
38-5
RUSSIA

FIJI
45-12
JAPAN

SCOTLAND
33-14
WALES
NEW ZEALAND
12-19
AUSTRALIA

ARGENTINA
14-31
SAMOA

SOUTH AFRICA
26-12
CANADA

USA
14-19
ENGLAND

KENYA
34-0
FRANCE

SPAIN
22-12
JAPAN

FIJI
29-7
RUSSIA

AUSTRALIA
38-0
WALES

NEW ZEALAND
22-12
SCOTLAND

CANADA
19-22
SAMOA

SOUTH AFRICA
26-12
ARGENTINA

FRANCE
0-39
ENGLAND

KENYA
33-14
USA

RUSSIA
19-26
JAPAN

FIJI
33-5
SPAIN

SUNDAY 29th APRIL

Challenge Trophy 1/4 Finals JAPAN

19-28
WALES

Challenge Trophy 1/4 Finals CANADA

26-7
FRANCE

Challenge Trophy 1/4 Finals SCOTLAND

19-14
RUSSIA

Challenge Trophy 1/4 Finals USA

36-12
ARGENTINA

Cup 1/4 Finals FIJI
24-19
NEW ZEALAND

Cup 1/4 Finals SOUTH AFRICA
24-12
KENYA

Cup 1/4 Finals AUSTRALIA
7-5
SPAIN

Cup 1/4 Finals ENGLAND
12-5
SAMOA

13th Palce S/F JAPAN
29-14
FRANCE

13th Place S/F RUSSIA
7-12
ARGENTINA

TROPHY S/F WALES
10-17
CANADA

TROPHY S/F SCOTLAND
12-33
USA

5TH PLACE S/F NEW ZEALAND
17-7
KENYA

5TH PLACE S/F SPAIN
7-24
SAMOA

CUP SEMI FINALS FIJI
12-10
SOUTH AFRICA

CUP SEMI FINALS AUSTRALIA
15-7
ENGLAND

13TH PLACE PLAY OFF JAPAN
31-24
ARGENTINA

TROPHY FINAL CANADA
12-26
USA
5TH PLACE PLAY OFF NEW ZEALAND
36-17
SAMOA
BRONZE FINAL SOUTH AFRICA
24-26
ENGLAND
CUP FINAL FIJI
28-22
AUSTRALIA
CONGRATULATIONS ONCE AGAIN TO FIJI
pqs: qs:
England take Bronze Trophy in Singapore 7s
Posted by: Unofficial England Rugby Union (IP Logged)
Date: 29/04/2018 16:34
What do you think? You can have your say by posting below.
If you do not already have an account
Click here to Register
.
Sorry, only registered users may post in this forum.