Up To Third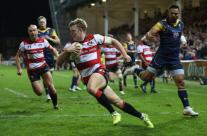 Thorley
By New Cherry
December 3 2018
Don't think anyone saw that second half burst coming. It was anybody's game at half time with the scoe reading 10-9 and then we unleashed some demons from somewhere.
Thorley, Clarke, Visagie and Thorley again all crossed before the hour mark to earn the bonus point and totally bamboozle Wuss.
It was an inside pass from Owen Williams which gave THorley his soon followed by Owen Williams powering for the line and setting up quick ball for Freddie Clarke to go over.
Controversy followed with only a yellow for Wuss's Chris Pennell who took out Charlie Sharples in the air, but from the penalty to the corner the catch and drive allowed Jaco Visagie to get his first try for the club.,
Kingsholm was pulsating and another exciting move saw Thorley going clear before to cut round the last man to score. Twelvetrees converting to make it 36-9.
That was the end of the home scoring spree with Bryce Heem gettting a late one for the visitors to finish 36-16.
Up to the third although some way behind Sarries and Chiefs.
pqs: qs: