Five thoughts from Newcastle v Leicester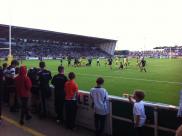 By Leipziger
September 19 2016
Reflections on yesterday's agonizing one-point defeat to the Tigers at KP:
1) Promise on the wings
Vereniki Goneva and Sinoti Sinoti didn't get the ball nearly enough yesterday, and when Sinoti did he was closed down quickly, Leicester showing again that the best way to defend against the Samoan is to deny him space to get those dancing feet going. However, Goneva's run down the right early in the game, taking on the defence on the outside, suggests that for the first time in many years we have two wingers who will look to take people on at pace, rather than slowing down and waiting for a tackle when space is tight.
2) Lean, mean Socin(o)
Yesterday was the first time I've seen JP Socino this season, and he looks leaner and tougher than when he first joined two years ago. Back then the Argentine had a bit of a babyface, but he now looks more mature and one wild kick to straight out on halfway aside, he put in a good all-round display yesterday. His try was well taken with a good line, and he might have had another without a couple of shunts out of the way while chasing a chip from Mike Delany. It's good to have the old JP back again.
3) It shouldn't have got that far
I'm glad Joel Hodgson hasn't taken a pounding for that drop goal howler at the end of the game. As said below, we lost the game earlier on, not just because of one failed kick. The only thing I can criticise the attempt for was that Hodgson appeared to be too close to the play, meaning that he had to snatch at the ball because if he had settled into a better body position, the kick would likely have been charged down. Another drive closer to goal wouldn't have made any difference as we were on the five-metre line, so it means either Michael Young would have had to pass further or Hodgson would've had even less time to kick.
Of course, had the ball went over, Wor Joel would've been a hero. Such fine lines are the difference in elite sport. But we should have had the game won already.
4) Kicked down
The Falcons lost yesterday's game in the middle forty to fifty minutes when our intensity and we stopped playing so much with the ball in hand, and instead kicked possession away cheaply. A kicking game has its place of course, but it has to be done well. When the team are attacking at speed and in space on Leicester's ten-metre line and the defence is backpeddling, a chip direct to a defender into the Tigers' 22 is an incomprehensible thing to do because the inevitable happens: the defender calls a mark, slows the game down, and clears upfield so we have to start again, minus momentum and probably a fair bit of territory. People have been saying this for years but inexplicably, it keeps happening.
5) State of the league
Leicester have a lot of good players, but yesterday was not one of the better performances by a Tigers team. Yet they still managed to sneak a win. The top teams can do this due to their superior quality and experience, yet with teams like the Falcons, we have to perform extremely well (and at times yesterday, particularly in the first twenty minutes, we did) just to get close to winning, but even then it might not be enough and on this occasion it still wasn't. It's just reality, unfortunately.
pqs: qs: