Five thoughts from Wasps v Newcastle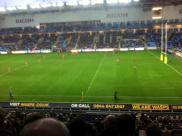 By Leipziger
October 31 2016
It might not be in the local papers any more but you can still find the '5 things' on this website (occasionally):
1) Good effort. Most Wasps fans seem to agree that the scoreline yesterday didn't reflect the game. The Falcons put in a big shift, and played a good attacking game rather than sitting back and trying not to lose. We were dominant for a lot of the second half, but just couldn't score. If JP Socino's try had been allowed (or Dominic Waldouck had passed to the overlapping winger in the build-up!), then it's suddenly 17-11 or 17-13, and who knows? Unfortunately it didn't happen, but the Falcons at least made Wasps work for their bonus point and we weren't blown off the park, which looked a possibility when the teams were announced. Continue to play that way and we will turn over some good teams.
2) It could have been worse. Scoring no tries, having two players binned, the opposition getting a bonus point, and spending much of the after-match discussing the referee isn't ideal. But at least we didn't lose at home in the seventh minute of added time – poor Exeter!
3) Reaping what's been sown. As many fans have said on here, Ben Sowrey was one of our standout performers yesterday. The arrival of a Worcester reserve in the summer was met with scepticism, but Warriors supporters insisted Sowrey was a good prospect and he has indeed looked good so far in a Falcons shirt. He gets himself about a lot in open play and the scrum isn't weakened by his presence. Before long, Scott Lawson will need replacing long-term and Sowrey is certainly putting his hand up at the moment.
4) Brain freeze. Sinoti Sinoti might be our best player but he showed yesterday that he's not immune to a moment of madness – complacently try to shepherd the ball with a Wasps attacker bearing down. The Falcons were very lucky to get away with that.
5) They tried to make me go to Ricoh… Yesterday was my first visit to the Ricoh Arena and it's an impressive place. There are lots of good facilities, including a huge fan village that is under cover and warm with plenty of bars and things for kids to do, and a band. In the ground, the bars ran well under the stands and there was a decent atmosphere among the 15,000 crowd (just under half the capacity). There are also some restaurants and pubs nearby. But what really impressed me is that the branding makes it actually feel like Wasps' home ground – for me, this isn't the case for London Irish in Reading, or even really Sale in Salford. I still don't like clubs relocating large distances but Wasps are making this work, and good luck to them.
Bonus thought) Super Jim. Jimmy Gopperth is a class act – goes about his business quietly and effectively, he ran the game yesterday and was the major difference between the two teams. It's a shame for us that he got the two tries at the end but he'll still always be a Falcons great.
pqs: qs: