Falcons bloom in the Gardens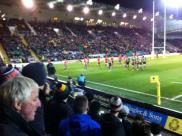 By Leipziger
November 27 2016
The Falcons' up-and-down season took another positive turn on Friday night with a first win at Northampton since February 2009. Like that day, we had a quick start before a battle to hold onto the lead.
Joel Hodgson's early try was followed by Marcus Watson racing in down the left, only for that score to be disallowed for a block in midfield.
Despite losing Kieran Brookes to a red card late in the first half, our former prop smashing into Scott Lawson forearm-first, the Saints took the lead after the break following Christian Day's try. The 14 men in black, gold and green threatened to overrun the Falcons as the temperature continued to drop at Franklin's Gardens, but our team kept their heads to fight back.
Hodgson and JP Socino played a good tactical kicking game to ensure we played in the right areas and Will Witty was driven over to restore an away lead. Stephen Myler put Northampton 16-15 in front with a penalty heading towards the final five minutes, but with the home side searching for a try that would seal four points, Vereniki Goneva intercepted a pass to race upfield and score the winning try.
I quite enjoyed the fact that Goneva scored the winning try, having spent 75 minutes listening to several home fans referring to the former Leicester man as 'Gonorrhea'. If he heard any such comments, he hit back in the best possible way.
There was plenty to dislike about our performance on Friday night – four kicks to the mark in the first half that simply wasted possession, lazy defending by Marcus Watson on occasions, one of which almost allowed Tom Collins in to score, and a threatened collapse in the start of the second half.
But there was plenty of character, which we haven't always when losing leads in the past. Joel Hodgson won man of the match but there were some other good shows too, including Michael Young and JP Socino, who had better games than we've seen for a while. The forwards as a whole performed well, albeit against seven men for more than a half. Mark Wilson led by example in Will Welch's absence, driving forward and being vocal with the referee, and Opeti Fonua showed his power in a late cameo.
Above all, it's nice to enjoy a rare away win!
So the Falcons are up at a heady seventh in the table now, though we could be as low as tenth by the end of today depending on other results. Most importantly, at 14 points ahead of Bristol with just 13 games left, surely it's time to banish relegation fears and start focusing on pushing up the table.
pqs: qs: