Five thoughts from Newcastle v Lyon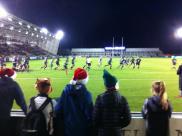 By Leipziger
December 19 2016
Considerations on the morning after the Falcons' high-scoring 48-29 win over Lyon.
1) Midfield combinations. Yesterday was another chance for Joel Hodgson and Juan Pablo Socino to team up in the 10-12 axis and they showed again that they can be a potent combination. Hodgson's speed and the direction of his running allows him to hit JP at pace, so he can break the line and put us onto the front foot. Funnily enough, when Socino was previously at his best for the Falcons he was also outside an attacking fly-half in Tom Catterick – the same just wasn't happening with Mike Delany and Craig Willis.
2) Another promising winger. I think yesterday was the first time I've seen Dan Marshall play and he had a good game out on the right wing, showing speed and trickery. If Marcus Watson does leave, then Marshall could get more game time and he certainly looks to have the potential to be a good player for us.
3) Try of the season. There were a few good tries from the Falcons yesterday, but the first will surely be a contender for our try of the season. Zach Kibirige hacking forward on a rare start and popping the ball to JP Socino, who then beat the defence from 30 metres. Brilliant stuff.
4) Switching off. I'm not sure if this "the team switched off" thing is real, as it's unlikely that all 15 players could lose concentration at once, but maybe a few can and it showed at times yesterday. Lyon's last try, which gave them a potentially-vital bonus point, saw them almost walk through the Falcons' defence. It's frustrating in terms of Europe as they remain a point ahead of us in the group table. Of course, with the Falcons on ten points and there already being three second-placed teams on 13, qualification isn't looking too likely.
5) Flat crowd. Yesterday's official attendance was around 3,500, and though as always these figures are inflated by absent ticketholders, the ground felt quite empty to me, and there wasn't a lot of atmosphere. I thought we might have got a bigger crowd with it being a reasonable weather day and the team doing well this season, but it didn't happen. There wasn't a lot of noise compared to a league game, or even other games I've been to with this size of crowd: maybe because the Falcons raced into an unassailable lead early on. I'm sure against Wasps it will be different – though not as good as it might have been with Newcastle United now at home on the same night.
Bonus thought) Merry Christmas!
pqs: qs: