Five thoughts from Newcastle v Saracens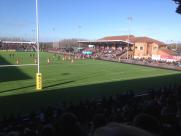 By Leipziger
March 6 2017
Falconsfan07 has written five things we learned yesterday, here are five thoughts I had in the pub last night and along the A66 today.
1) In yer face
I think it's been recognised for a while that the key to stopping the Falcons' backs, especially Sinoti Sinoti and JP Socino, is to defend close to them. This denies them space to use their speed and creativity. Not every team can play a high defence well, but Saracens' 'Wolfpack' did and we didn't have much answer. How well the Falcons adapt in such situations, and how effective our plan B is, could be a difference between reaching the next level sooner, later or not at all.
2) EverGreen
For all the hype about Sean Robinson last season and Evan Olmstead this year, Calum Green has, for me, quietly become one of the first names on the teamsheet. The big East Anglian put in another strong performance yesterday in defence and attack, and his form is certainly contributing to the Falcons driving up the table.
3) Reality check
Although I thought yesterday might have been our best chance of beating Saracens since our last win over them in 2009, and we competed well, overall we were second best. It kind-of showed that although the Falcons have improved a lot this season, and deserve credit for that, we're still a bit behind teams like Sarries. A bit of a reality check. But at least we're moving in the right direction.
4) Fast reorganization
It's a given that Saracens are currently a better team than us, but what really impressed me was how quickly they got organized at the breakdown. When a Saracens player was tackled, his teammates moved quickly into position and so the scrum-half was able to provide fast ball, and the attack continued fluently. Not something I notice with any but the best teams.
5) Bad sportsmanship
Saracens were winning by eight points with a minute and a half left. If we and Saracens were near each other in the table, or title/playoff/relegation rivals, I could've understood Sarries ambling back to halfway after our third try. It wouldn't have been great, but it would've been understandable. As it was, they had the game won and whether we went on to get one or even two bonus points didn't matter to them. Yet they still tried to waste time. It wasn't good and well done to referee Craig Maxwell-Keys for stopping the clock.
pqs: qs: