"What is a club in any case?"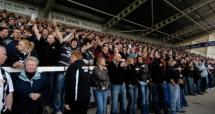 By Leipziger
January 2 2018
"Not the buildings or the directors or the people who are paid to represent it. It's not the television contracts, get-out clauses, marketing departments or executive boxes.
"It's the noise, the passion, the feeling of belonging, the pride in your city. It's a small boy clambering up stadium steps for the very first time, gripping his father's hand, gawping at that hallowed stretch of turf beneath him and, without being able to do a thing about it, falling in love."
The words of the legendary Geordie football manager Sir Bobby Robson. These words were going through my head before the Harlequins home game before Christmas, because it was the first game I'd take my little daughter to.
At just two months old, Baby Leipy was and is too young to know what's going on, but it was a massive day for me, bringing my family to a game and standing with them alongside the Falcons Family.
I thought back to my first visit to KP 21 years ago, and how the Falcons has become such a huge part of my life.
Abraham Maslow's hierarchy of human needs includes a level called 'Social Belonging', involving belonging to a group larger than yourself. This can be family and friendships, and/or sports teams, religion, etc. But for all of us, we need to feel part of something larger than ourselves to be content, and I think the Falcons is one of the things that provides this for me.
Since the mid-2000s, when I began to get to know other fans, watching the Falcons has become far more than just about the game to me. Heck, it's had to – if it was all about the game and nothing else, hardly any of us would have got past the dark days of 2008-2012.
As Sir Bobby suggests, it is supporters who sustain a club, and our emotional investment counts for so much. I don't get to nearly as many games as in the past, for various reasons, but I always still get the same rush before I go to a match and I love meeting other members of the Falcons Family.
At the Harlequins game, I was so proud to introduce Baby Leipy into the Falcons Family, and it's nice to imagine that one day we will cheer the team on together in the South Stand.
Happy days.
pqs: qs: