A Sideways Look at Referee Signals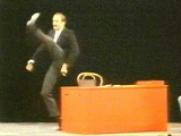 A high kick ??
By Eek the Weeble
October 12 2005
We've all seen the poor Ref gesticulating wildly at times. Many of us have little idea what he's up to. The official explanations are held in one of The Craic's sidebar stories. Here Eek the Weeble gives us some alternative explanations.
ALTERNATIVE REFEREE SIGNALS
The use of referee signals is recommended in order to help the referee communicate with players and spectators. So now you will be safe with the knowledge of what the referee really means !
| | |
| --- | --- |
| 1. I'M HERE AND WHAT'S THAT SMELL ON MY FINGERS ? | 2. I'M HERE, MY ARM'S STARTING TO ACHE AND WHAT'S THAT SMELL ON MY FINGERS ? |
| 3. NO! OVER HERE FOR GODS SAKE! THAT SMELL IS REALLY QUITE STRONG. | 4. PLEASE PARK YOUR CAR OVER THERE. |
| 5. PLEASE PARK YOUR CAR OVER THERE AND WHAT THE HELL IS THIS SMELL. | 6. I HAVE MADE MY OWN UMBRELLA OUT OF MY ARMS. |
| 7. THIS BLUE ARROW HAS COME STRAIGHT THROUGH MY ABDOMEN. | 8. THIS DOUBLE ENDED ARROW HAS PIERCED MY HAND. |
| 9. I NEED A HUG. | 10. THESE DOUBLE ENDED ARROWS MAKE RUBBISH COTTON BUDS. |
| 11. TECHNIQUE FOR STIMULATING TALL WOMEN (SEE ALSO 21). | 12. I'M A LITTLE TEAPOT... (GO TO 25). |
| 13. THIS IS MY DESIGNER UMBRELLA. | 14. FOLLOW THE ARROW TO FIND THE GROUND. |
| 15. THIS IS MY DESIGNER ARMPIT SCRATCHER. | 16. I CAN USE IT WITH MY GHOST LIKE THIRD ARM. |
| 17. THIS IS MY 'HOLDING A PLACARD' STANCE. | 18. I CAN DO THE MACARENA. |
| 19. THESE SHARPENED COTTON BUDS HELP ME IN MY ARM WRESTLING TRAINING... | 20. ...AND ALSO IN MY 'DO THE LOCOMOTION' DANCE. |
| 21. TECHNIQUE FOR STIMULATING EXCEPTIONALLY TALL WOMEN. | 22. THERE'S MUCK ON MY SHOE. |
| 23. I'VE DROPPED MY SHARPENED COTTON BUD. | 24. CURRENT WORLD RECORD OF BALANCING SHARPENED COTTON BUD ON ARM....ONE. |
| 25. ...SHORT AND STOUT...(GO TO 42) | 26. ...HERE'S MY SPOUT. |
| 27. THESE DOUBLE ENDED ARROWS HAVE PIERCED MY HANDS... | 28. ...BUT I CAN BALANCE THEM ON MY ELBOW. |
| 29. HERE, YOU CAN SEE THAT MY FOREARM IS PIERCED... | 30. ...AND HERE, BOTH HANDS PIERCED WITH ONE SHARPENED COTTON BUD. A BIT OF S&M NEVER DID ANY HARM. |
| 31. I AM LEVITATING A LARGE ARROW. | 32. I AM LEVITATING A SHARPENED COTTON BUD. |
| 33. TECHNO! TECHNO! TECHNO! TECHNO! I AM A RAVER. | 34. I DON'T LOOK VERY BUTCH HERE DO I ? |
| 35. BUT THIS HAS TO LOOK EVEN MORE EFFEMINATE. | 36. LOOK! I'VE CLEANED MY HANDS PROPERLY. |
| 37. I'VE HAD IT UP TO HERE. | 38. OUCH! I'VE TRODDEN ON A DOUBLE ENDED ARROW. |
| 39. THIS IS HOW HAROLD MET HIS END IN 1066. | 40. IT'S ONLY A LITTLE DOUBLE ENDED ARROW BUT IT STILL HURTS WHEN IT GOES THROUGH YOUR HAND. |
| 41. PHEW! THAT BLOKE OVER THERE HAS JUST FARTED! | 42. ...HERE'S MY HANDLE...(GO TO 26) |
| 43. PHEW! THAT BLOKES FART IS STILL LINGERING. | 44. I AM NOT WORTHY. |
| 45. TECHNO! TECHNO! TECHNO! TECHNO! I AM A RAVER. (REMIX 12" VERSION...REFEREE RAP). | 46. PLEASE CAN I LEAVE? THAT BLOKES FART REALLY IS UNBEARABLE. |
pqs: qs: