Winter is Here…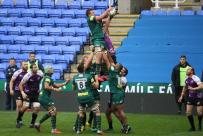 By PV
November 1 2018
Saturday saw us host the Cornish Pirates and it's fair to say, most of us were in a pretty confident mood that we could get the job done and bag five points before the away day to Jersey. It was bitterly cold in the bowl and I must confess that I took very few notes in the second half as my fingers felt like they were dropping off, but here's my observations for what it's worth.
Going into the game we seem to have accumulated a worrying amount of injuries in the one area we don't have depth, the outside backs. It gave an opportunity to debutant, Ollie Hassell-Collins on one wing and by contrast, he had the longest-serving and most capped London Irish player on the opposite wing – the one and only Topsy Ojo. Congratulations to Topsy for being a fantastic club man, sticking with us through thick and thin, also to Ollie for scoring a try on his debut and putting in a very credible display against a decent outfit. That said, if we lose either of these players we are literally scraping the bottom of the barrel for replacements – look at who is out and long-term, Bell, Parton, Loader, then add in that we haven't really seen any of Nalaga, Fowlie is still out too, we are desperately unlucky – a few loan signings maybe in order just to cover the imminent cup games.
Speaking of which, this was the last home league game until 2019, a double-edged sword, on one side of the cutlass we get to recuperate and augment out wide, on the other, we lose some of Saturday's momentum – the crowd were really up for it and although we only had three and half thousand watching, you get the feeling that had we a few more matches of that calibre, it would encourage more support through the turnstiles. However, they really need to sort out the catering as they were undermanned and understocked for Saturday and still don't seem to get that we are living in a cashless payments world now…. anyway, whinging over and on with the game.
There were a few worrying trends, when we scored, we immediately either conceded points or gave ground from the returning restarts, we must sort this out. We seem to have a dip in form from 45-65 mins (not the first time), where we let sides back in, the team must be prepared to go 85 to 90 minutes in this league if we are to have any chance of surviving, let alone thriving in the Gallagher Premiership. Defensively we tend to buckle too easily under pressure when sides with big packs retain possession, this pressure really told when the Pirates put us under the pump in the second half and we could have lost the match at 33-29. They were the biggest pack we faced and out wide possess a class act in Moyle who was always threatening and dotted down twice.
I've said this before, Meehan is not a ten, he did well in slotting over a few difficult kicks and he has decent pace, but he's an out and out nine, and a decent one at that. He likes to make quick breaks and his box kicking is sound, but any other kicking out of hand is well below par, one example leading directly to a Pirates try in the first half– I'd be interested to see Atkins getting a run if Myler is not match fit, but I'm really hoping that he is a starter on Saturday as we look a much more composed outfit with him in the team. When he plays, the rest of the backs tend to click, as we saw at London Scottish, Campbell and Macken had comparatively quiet games by contrast on Saturday.
Where we did excel was in the set piece and mauls, we dominated against a big pack. This is our most formidable weapon and it is very tempting to use this as our 'go-to' in most matches – I get the rationale and given the circumstances it made sense. I do wonder if it's the best preparation for a (hopeful) promotion – feels like groundhog day – where we will need a tried and tested all-round game to survive. We created plenty of space outside by punching through the middle and regularly had the numbers, but we just couldn't exploit the opportunities without a fly half and pace at full-back and on both wings.
Paulo had an outstanding game in the loose, his tackling was top notch, but what impressed me more was his carrying, he's had a few critics on the MB this season for being a tad one-paced and lacking in the carrying department, but he really stepped up on Saturday – more of that please.
Credit needs to go to the whole team and the supporters on the day, we could have lost, I've seen us lose more often than not on similar occasions, but we didn't, we came through with the five points most of us thought we'd get. One man really stood out for me in pulling the team together and regathering the spirit to get us over the line (literally), Josh McNally. Never has an average game that guy – what a player, he is the platform for us to build around and I'm delighted we managed to keep hold of him.
Onwards and upwards me hearties. Next game, Jersey away, good luck to all those going, sounds like a great trip in store.
Man of the match "…the very model of modern Major-General" – Josh McNally.
pqs: qs: