Only the Lonely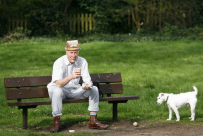 By Ecksile
November 16 2018
One of the major problems of being in the lower leagues, for this website, is that fewer people attend games. This means there are fewer people who could write us a match report. For a trip away this is amplified, for an away trip in a cup-competition that no-one really cares about? One man and his dog. Fortunately, for The Craic, that man (or his dog, we're not judging) posts here and, in the absence of anything else, that will have to stand for out match report. Many thanks to Ecksile for the comments, it's good to know someone was watching.
I was there! Having said that the attendance was well short of 1,000 and Irish support was well less than 100 I would think. Torrential rain, at least for the first half meant virtually everyone was in the seated area. Very little cheering/encouragement from supporters either side.

The competition is just meaningless, the only reason I decided to go at the last minute was to watch our team that looked strong on paper (with the return of some well known names) against a young Hartpury side.

As you might expect given the conditions handling errors from both sides were numerous, endless high balls in the first half from both sides. We continued that way in the 2nd half while to me (with my basic knowledge) it seemed that Hartpury were playing with ball in hand a lot more.

With Hartpury throwing the ball around we were working hard in defence, but were pretty solid and we had the turnovers at the right time. They had by far the greatest possession but apart from the odd opportunity never really looked that threatening. Loads of crabbing from side to side by us, very little real penetration.

Having said that, we ground out another bonus point victory and it was a valuable opportunity for game time for those back from injury. Myler was imperious again, just makes me cringe for his safety every time I see him go in for the tackle.Don't want to pick out specific players on here but some of the returnees were a long way off the pace

The big worry for me is that we keep using plan A, ie. our forwards. Can't help thinking back a few years ago when we had some great backs but not the forward power to get the ball out to them. Here we are now with the exact opposite. When was the last time we saw really penetrative play from our backline?


pqs: qs:
Only the Lonely
Posted by: The Craic www.londonirish.org (IP Logged)
Date: 16/11/2018 10:47
What do you think? You can have your say by posting below.
If you do not already have an account
Click here to Register
.
Sorry, only registered users may post in this forum.