A Glass Full of Christmas Cheer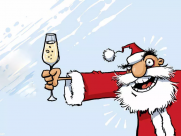 By Steelman
January 2 2019
It's a time to put away doom & gloom, relax,and to enjoy the good company of your fellow man and so it was we came to Hartpury College, where healthy young folk of wealthy descent come to be schooled in equine or rugby matters.The rugby team has long been a feeder to Glaws, who train there, and it's a college fed outfit, stiffened with grizzly old warriors acquired for a few pieces of silver and a beer or two.
It's very plain to see that the local planning and funding committees have been bang on board with this project... this really is a World Class Facility, and will be a stadium for the future. It shows up the shabby treatment we've had from Spelthorne Council over the years, at both the Sunbury grounds.
The game was a full bloodied, harum scarum encounter, on a big flat grass surface ideal for running rugby, and was played in a good spirit, if we ignore a couple of girly punches thrown by the College prop. The ref warned him for slapping. Fair enough.

Realistically, we could and should have scored many more points, but time after time having established good field position, infringed at line outs and mauls. Needlessly, as we were dominant in both. The scrum seemed a more even contest but they were mercifully few.
No, and I must whisper this, 'twas the backs that won the game today. Yes, yes, I know Gilsenan and Cilliers played their parts well, but the backs were just too good, too incisive, sharper in the pass, better with the boot, too decisive in the tackle for those sons of West Country farmers.
Williams is a revelation, popping up across the line, stepping off both feet, causing mayhem. He's a goodun, Barf will be having his shirt made!
Stephenson, cunningly playing in a scrum cap and wearing Mulchrone's shirt, played for the first time in years with both legs working, and wow, can the boy play. Meehan is starting to look like the real thing, his games at 10 seem to have improved him. Topsy and McLean, playing like kids desperate for their first contracts. Smyler and Mulchrone, just doing what they do. Anyway, for the first time in a long time this looked like a back line.
The game went like this. After 3 minutes Matu'u received man and ball, and his knee will have hurt all night. Wishing you well. Shortly after this Williams danced through from the 22 and dotted down. Smyler hit the upright. 0-5. Then we had colleges best 10 minutes when they really should have had a penalty try. Bottom team luck! After 20 minutes Topsy got involved in kicking tennis, which climaxed in a 40 yard break, some good phases and a dot down,converted. 0-12. Scorer Ben Meehan.
After 30 minutes a sharp break by McLean and a smart release saw Stephenson go over in the corner, converted by Myler, 0-19. After 37 minutes Hartpury built pressure in the corner, again several penalties conceded, van de Merwe got a yellow, and College got their first points, but only 5 not the 7 they deserved. 5-19.
Straight from the kick off Irish went into their best spell of the match building pressure by phases and being comfortable in possession. Just to keep and capture that elixir of Successful rugby, if only it could be done! Anyway we did for 5 minutes, Porecki sped over and Myler stroked it over, 5-26 at the break.
At this point, I removed my frozen body to the warmth and shelter of the club/stand facility, where many people were enjoying a splendid evening, seemingly with no care at all to the games outcome, just enjoying a drink with their chums at Christmas. In no time we were underway again, Stephenson caught the ball and wiggled his hips on his 22, and then took off to the oppositions, where Topsy hoovered up the ball and sped over. Tee for Mr Myler....5-33.
And then plenty of action, but no scores until two minutes from the end, when the forwards tried to maul over, but even then they had to offload to a back Scott Steele to get the 5 points.
Just a 40 minute sprint back the A417, and I was back in the village pub enjoying a full glass of Christmas Cheer. Well done lads, a festive offering.
May we have more of the same in the New Year please.
pqs: qs: