Bath vs Harlequins : Late show from Nashville Catts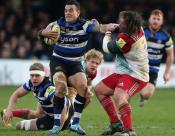 By gregory p
February 23 2017
It may have taken until nearly the last quarter for Bath to wake up but when they did it was enough to ease past Quins 22-12. Quins just didn't make it hard enough, on a second foray into the Wild West in eight days, for the Nashville aristos. Nor did Quins do enough to nick the bonus point that their performance should have earned, which was disappointing. Bath were muscular enough to generate five kickable penalties to Quins' none and so made light of the 1-2 try count against them.
The day had started well enough: an on time train from Paddington; a wonderful morning looking around Beau Nash's elegant city; a lunch from heaven and a walk to the best ground in the Premiership through a city centre thronged with rugby fans. Then I took my place in the Thatcher's stand. I was, appropriately, surrounded by a sea of blue and the seat was hard, uncompromising and cost more than expected. [Ed: you call that topical satire?]

Bath kicked off and the early exchanges typified the game – lots of kick tennis and a Quins scrum, for once this season, coming off second best. From a Priestland punt, James Chisholm (who otherwise looked more like his early season best) overran a bouncing ball and was forced into a holding on penalty. Priestland eased it over for 3-0 with five minutes gone and it was all a bit soft from Quins.

Quins did at least kick them selves into action following a turnover by Dave Ward. Despite Hopper – my god he's not a crash ball guy is he, and why wasn't Roberts playing – coughing up possession not far short of the Bath line, Marchant, Visser and Reddish all tested the Bath cover. At this point we had the edge in territory and ball but it didn't generate penalties or points. Once Bath broke out they put us under pressure at scrum time and at the break down. Priestland knocked over a scrum penalty and 6-0 it was with 15 minutes gone.

The pattern seemed to be Quins spending time in the Bath half without making it count and Bath generally stuffing up their counter attack - it looked like freshers' week at juggling school for the men in blue and black. The Bath fans around me were not impressed. From a sharp Mulchrone tapped penalty – Danny has taught him something useful after all – Yarde found some room. He seemed to ignore his support and easier running lines and the Bath cover said thanks mate as they devoured him. Despite that all around me people started to sleep off the pre-match beer: side to side - this was the rugby equivalent of line dancing. An extended break while Reddish went off and Merrick came on only enhanced the power nap opportunities.

Something did in the end give. From another Priestland punt – and there are as many cries at Bath of "ferchrissakes run it" as there are at the Stoop – Morris took a good high ball and ran it back. Quick ball to Marchant – whom Bath policed like he was a visiting head of state, some compliment that – saw him unveil his Ali shuffle. This way, that way, my way, and it bought us more empty space than between Jonathan Davies' ears. Quick recycled ball to the Riverside stand gave us a three on two. Unfortunately one of our three was Matt Luamanu and yet – surely possessed by the spirit of Jeremy Guscott – he timed his pass like a Swiss watch and Visser impersonated a human javelin as he speared into the corner for five points. Never have so many people woken up at the same time. Craig Maxwell-Keys (who had a good game) went upstairs but it stood. Jackson virtually caressed over the conversion from wide out, seemingly starting his run up in the front row of spectators: game on at 7-6 to Quins.

With 9 minutes of the half still to play there was, though, plenty of time for us to sort out some bacon and eggs for a dog. Mulchrone – and on the whole he had a good game – hit one out on the full. From the line out Roko steamed in on the angle and took a lot of stopping, Bath finally smelt a bit of blood and their forwards went route one. Despite some brave tackling – and Yarde brought off a beauty – the offences mounted up and from one Priestland had a gimme to make it 9-7 with still five minutes to half time. Those five minutes seemed to contain more enterprise than the previous 35 but the score stood at 9-7 as half time came.

At half time I had a long conversion with a neutral who asked me what I made of that. I trotted out my old line about it being a good advert for the game – but the game was rugby league. [Ed: the time of death for that line was about 1997]. It turned out he was a Wigan fan so he ticked me off about how un-enterprising the half had been: he was right, it had been risk free, below par Warren ball from two sides afraid to chance much. Quins backs had looked sharp-ish in fairness, but the Bath backs had stood flatter than five day old lager and Quins line speed clobbered them every time.

Could Bath's lethargy last? It did in that Quins started the second half brightly. Another Bath handling error gave us a scrum close to Bath's 22. As we recycled quick ball it was Rob Buchanan's turn to impersonate Jerry Guscott as he sped down the narrow side. A classy short pass out of contact to Yarde gave him the gap he needed to finish in style, making it 9-12 to Quins. Jackson was unlucky with another wide out conversion, hitting the bar.

Bath at last took that as a cue to get on with it and only a forward pass and some grim defending as the Bath wing (Jack Wilson maybe?) made good ground into Quins 22. The game continued in a scrappy fashion though: Bath conceded their only scrum penalty of the game; Visser got turned over following a good break; a Quins maul got held up from a line out; Charlie Mulchrone nicked a turnover; we again stuffed up an attacking maul and this time those on the south and west sides of the grounds were treated to a view of the hairy arsed buttocks of one of the Bath forwards. Bath had during this time started to empty their bench and with the likes of Kane Palma-Newport coming in it seemed to make a big difference.

Bath finally penned us in our 22 forcing Visser to kick for touch. It wasn't a long touch and from quick ball following the line out Priestland trusted himself to have a dart. He carved a great big Welsh hole in our cover and but was caught close to the line. The energised Bath pack piled in but were repelled by some gutsy defence. Fotuali'i grabbed the ball from his line hungry forwards and popped out a fast short pass to Max Clark, the Bath centre, who steamed in and was unstoppable from short range. I was sat in the goal behind the action it you really do feel on top of it there – despite the outcome it was great theatre and you get a full for how bloody hard the game is at close quarters.

With a conversion less challenging than reading a Sun editorial, the score was now 16-12 to Bath and only 17 minutes to play. Soon after we unwrapped Nick Evans from his bubble wrap and Jackson – who is really growing into his job – departed looking less than happy at being subbed.

We came back with a good counter from Morris – again, not a bad day's work from him – but lots of side to side in Bath's 22 petered out with another penalty, for off-side, to Bath. Nev looked the part though and engineered some space on the Rec side of the ground but Luamanu and James Chisholm lacked the pace to make it count. That was probably our last real threat as from then on a series of unforced errors and good Bath pressure kept us at the wrong end of the pitch. A short touch kick was hammered back at us and, after a long advantage, the ref brought it back for a maul penalty. Priestland was cool and made it 19-12 with only five minutes to go. My rugby league mate from half time left on the basis that the pub was going to be more entertaining and Quins were blown.

He was right on both counts as our kick off didn't generate time in the Bath half and they again camped down our end. Luc Jones, on for Mulchrone, showed us that he could play the "Quins way" with an aimless clearance kick that wasn't chased and Bath stretched our cover from side to side. Creditably it didn't give but once again we were brought back for a kickable penalty to Bath. Priestland made it five out of five and with only two minutes and two scores needed, the best we could hope for was a bonus point.

We chucked the ball about a bit – Alofa Alofa, Marchant and Visser all showing some gas. Our cause wasn't helped by the fact that Chis was filling in at centre with our quota of backs on the bench already used. Bath still had too much grunt and Priestland signed us off with a free kick to touch.

Kahn Fotuali'i was made man of the match but he could just have been picked out of a hat. He was OK but wasn't exceptional to be honest. In fairness the pundit didn't have much to work with, but the real architects of victory for Bath were the Catts, Battys, Louws, Dentons and Ewels who gave Quins a rough ride up front and themselves showed good discipline. We didn't get a kickable penalty all day. They generated penalites a plenty and Priestland's 100% haul was due reward for them. While we made stacks of unforced errors, Bath are due some credit for the general pressure they put us under. That said, the Bath backs looked a bit short of invention, other than "give it to Roko". Quins had the edge behind the scrum but without enough ball or field position we were going to struggle.

A couple of cheap, well-kept pints of Exmoor at a lively Pulteney Arms softened the pain afterwards. The question remains though – what are we watching here: a work in progress that will suffer blips along the way; or, another step in the post-2012 decline?
pqs: qs: