Harlequins vs Newcastle: Quins whistle a happy toon!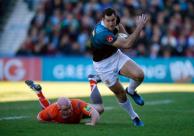 By Bedfordshire Boy
March 27 2017
Bright warm sunshine under clear blue skies and a sell out Stoop, difficult to imagine a better scenario for watching a game of rugby. And what about the team, it seems like forever that we have managed to field a match day squad of such strength, it is worth looking at again in case it was all in the imagination; 15. Mike Brown 14. Marland Yarde 13. Joe Marchant 12. Jamie Roberts 11. Tim Visser 10. Nick Evans 9. Danny Care 1. Joe Marler 2. Rob Buchanan 3. Will Collier 4. George Merrick 5. James Horwill 6. Chris Robshaw 7. Dave Ward (C) 8. Mat Luamanu 16. Joe Gray 17. Mark Lambert 18. Kyle Sinckler 19. Charlie Matthews 20. Jack Clifford 21. Charlie Mulchrone 22. Tim Swiel 23. Alofa Alofa
Surprising how different things can look with the return of the injured and international players. There is no doubt that a good performance is expected although the team that Dean Richards has brought to The Stoop is well organised and should be no pushover.
An impeccable period of one minutes silence in memory of those involved in the tragedy in central London the Wednesday was held immediately prior to kick off and within two minutes the optimism of the home crowd was knocked back when the Falcons scrum half Sonatane Takalua slipped through the Quins defence to score under the posts. He converted his own try so after only four minutes the score stood at Quins 0, Falcons 7.
Undeterred Quins definitely had a plan to keep running the ball and spent a sustained period pressing the Falcons line which resulted in a warning that the next misdemeanour would result in a yellow card. From a penalty in front of the posts, Nick Evans easily converted the kick to reduce the Falcons lead to just four points with 12 minutes on the clock. Quins secure the ball from the restart and continue to run the ball but the ball is turned over and Falcons mount their own attack which breaks down as Hodgson spills the ball which is gathered up by Tim Visser. Visser makes ground and gets the ball to Chris Robshaw who is eventually hauled down 5 metres short of the try line. Nonetheless Quins quickly recycle the ball and the ball goes from Care, to Evans to Luamanu who slips the ball to Rob Buchanan to score under the posts. The most pleasing thing was the speed and the incisiveness of the attack, something rarely seen this season. With the extra two points added from the boot of Nick Evans, Quins go in front on the scoreboard to lead 10 – 7 after 15 minutes of play.
The restart is gathered once again by Mike Brown and Quins work their way up the field breaking the gain line time and time again until Falcons are penalised. Danny Care takes a quick penalty and reaches the Falcons 22 before being tackled, the ball is again recycled but the move breaks down when Nick Evans spills the ball. Both teams continue to play an expansive game but it takes another five minutes before the scoreboard operator services are called upon again. The ball is shipped along the three quarters line allowing Tim Visser to once again make ground before passing inside to Mike Brown who runs around the outside of Hodgson to ground Quins second try under the posts. Another straightforward conversion from Nick Evan brought the score to Quins 17, Falcons 7 after only 22 minutes. Undeterred Falcons continue to play and if a pass had gone directly to Goneva on the left wing it is pretty certain he would have run in for a try, shows how close the margins between success and failure can be. Falcons were rewarded for their efforts by a penalty on 31 minutes when Takalua completed his second successful conversion to reduce the errors to 7 points.
From the next Quins attack, Falcons centre Socino was shown a yellow card for a high tackle on Nick Evans who following treatment, stepped up and restored the Quins lead to 10 points. With the clock showing 40 minutes and with Falcons mounting one last attack Joe Marchant intercepted a wayward pass on the halfway line to score Quins third try under the posts which was converted by Nick Evans. So, Quins 27, Falcons 10 at half time with the home supporters buzzing and looking very happy. Thought that Falcons were a little unlucky with the score line but there is no doubt that every Quins player was really playing with a point to prove and looking dangerous in attack and sold in defence.
Quins were straight onto the attack from the kick off playing with the benefit of a strong wind and within two minutes had earned a try bonus point. Mike Brown took a pass in midfield just inside the Falcons half and glided through the Falcons defence and passed to Marland Yarde to score a straightforward try for Nick Evans to once again convert. Quins 34, Falcons 10 after 42 minutes. Quins continue to press and a perfectly weighted kick to touch by Nick Evans takes play to within 5 metres of the Falcons line. This brought the first substitution of the day when Olmshaw replaced Chick in the Falcons back row who was soon shown a yellow card for interfering with a Danny Care quick penalty. All of the play was now almost all confined to the Falcons 22 and things were to get even worse for the visiting side when following a line out, catch and drive sequence, Mat Luamanu crossed the line for Quins fifth try of the afternoon. Nick Evans continued his 100% kicking record for the afternoon to move the score on to Quins 41, Falcons 10 with still 31 minutes to play.
There was no let up for the Falcons defence as Quins continued to press when Mike Brown made yet another attack only to be well tackled by Matthew Tait. The ball was recycled and within 6 minutes of the fifth try Falcons were even further behind when Mat Luamanu passed the ball to Danny Care who scored from 5 metres out. Another successful kick from Nick Evans taking the score to Quins 48, Falcons 10 after 55 minutes as Kyle Sinkler replaced Will Collier. Falcons certainly have not given up and set up camp inside the Quins 22 winning a series of penalties before kicking to touch for a 5 metre line out on 58 minutes as Tim Swiel replaces Nick Evans who leaves the field to a great cheer from the home crowd. Quins defend the line out, winning a scrum from which Luamanu makes space for Care to get the ball safely in to touch. With Falcons now back to full strength they continue to press but the Quins defence is dominant so they are pretty much stranded in mid field.
Changes. Despite being so far behind on the scoreboard Falcons continued to look for another score and their efforts were finally rewarded when after a period camped within 5 metres of the Quins line, Mark Wilson touched the ball down for a try. The two extra points added by Mike Delaney brought the score to Quins 48, Falcons 17 after 67 minutes which also heralded the appearance of Mark Lambert replacing Joe Marler and Joe Gray replacing Rob Buchanan. Falcons continue to press but a loose pass on 72 minutes allows Tim Visser to make a break well into the Falcons half before being forced into touch. Before the line out can take place, Visser is replaced by Alofa Alofa and Charlie Mulchrone came onto the pitch to replace Danny Care. Both teams continued to run the ball at every opportunity but final score of the match went to Quins which took their score past to fifty point when a chip through the Falcons defe nsive line by Joe Marchant for Tim Swiel to gather and touch down. Swiel failed with the conversion attempt leaving the final score Quins 53, Falcons 17.
I am not sure that too many of us were expecting such a scoreline, a home win, hopefully with a try bonus point perhaps, but a try fest? Cannot think of anybody who had a bad game, the defensive line was solid throughout and in attack it seemed that with every carry the Quins players broke the Falcons defensive line. Particularly impressed with Jamie Roberts line breaking and at last he has demonstrated why we invested so heavily for his services. His centre partner Joe Marchant yet again showed that he is an England centre in waiting if he continues his steady progress. Both Marland Yarde and Tim Visser were everywhere looking for the ball and both played their part with their defensive duties.
Danny Care seemed to be back to his very best, continually causing problems to the Falcons defence as well as getting the ball briskly to Nick Evans who himself is clearly still a class act with a 100% kicking record on the day. In the forwards the Quins set piece was more than a match for the opposition and the influence of James Horwill was clear to see. The Quins back row was well balanced, not sure that Dave Ward hasn`t found his true position at number seven, Mat Luamanu gets better and better and provides the ball carrying that we have been missing for so long and the Robshaw twins were everywhere on the pitch – surprised the referee did not notice that we were playing with sixteen men. Last to be mentioned is the well deserved Man Of The Match Mike Brown. He was everywhere on the pitch and seemed to be part of every attack as well as being imperious under every high ball that came his way.
Needless to say that this was a real team performance with no obvious injuries so it all bodes well for the rest of the season - or am I getting ahead of myself? Quins still have a lot to play for this season and the away game at Wembley against Saracens should provide a real test.
pqs: qs: