Exeter Match Report – The Agony and the Exe-tasy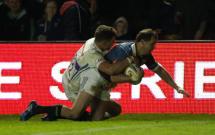 By Gregory P
April 11 2017
They say that the scoreboard does not lie, but as Quins ran out 26-39 losers to Exeter on a cracking Good Friday evening game at a packed Stoop, the glowing lights were telling a fib or two. There's no doubt that a more dangerous looking Exe side deserved the win – a 5-3 try count tells its own story – but a final quarter, that saw the bounce of the ball favour Exe so much that Rob Baxter was on the phone checking his Euro-Millions numbers, put a lopsided look to the bill. Credit to Exe: they defended well and took their chances with some style. Quins just ran out of inspiration and luck in that final 20 minutes.
The pre-match vibe had been good: cold beer, a warm evening, close to a full strength Quins side on home turf and facing an in form but slightly less than full strength Exe, all causing me to be uncharacteristically optimistic. With Quins running out in black socks – and I hope Acme Laundry has lost the white ones for good – my optimism was nearly complete. It went into full Magenta-o-Vision when Quins crossed the white wash first with a storming move. Roberts and Wallace thundered back a duff Slade clearance. From rapid recycling Danny changed the angle of attack losing much of the Exeter cover deep in their 22, and found Luamanu at full speed who blasted his way over. The Geology department at Kingston University woke up and made a note of a shock wave in the TW area. Nev unfortunately snatched the kick to the left of the posts but we were 5-0 up with three minutes gone.

Exe struck back inside two minutes as Rimmer, the Exe prop, crashed through our cover, and from a period of sustained pressure Barnsey decided we were off side. Slade got down and got with it to make it 5-3. The pace of the game seemed furious and Quins spent a long-ish period asking lots of questions of the Exeter defence. Exe answered them all as Brown shimmied and sent Visser on his way to a chip and chase. Marler (who put in a late job application for the Lions) was at his leg pumping best in the loose, and made a hole in the Exe cover. Danny – who looked like he had an overlap as long the queue of English second rowers who should be NZ bound outside him – seemed to time his pass wrongly and James Short - or maybe Woodburn, as bald, muscley wingers look alike to me – got a vital hand in to intercept and kill the move.

Exe then took their turn to ask questions of the Quins cover, which held well but at times looked as creaky as a retired prop's hips. Only the first scrum at 16 minutes gave the players and the crowd a chance to draw breath. Exe kept up the pressure though and Slade started to find runners at speed with his passes. The net result was some serious yardage gained on the east stand side and Dave Ewers – he could pass for Fred Flintstone's stunt double and he really is big and uncomplicated, isn't he – took his turn to thump to earth and disturb Kingston's Geology department again. Slade was far, far away as his conversion didn't chart.

There was no let up on the pitch: a great Quins hit from the re-start, the Exe second row Dennis made a menace of himself by barrelling into space to be nailed by Brownie (and regrettably that seemed like his last positive contribution, as he's definitely had better days at the office) and Robshaw (one of them, anyway) nicking a turnover. Luamanu (and what great second half to the season he's having), Visser and a dancing Marchant all kept up the pressure. [Incidentally, it is a legal requirement of our DHL sponsorship deal that at least one squad player must wear sufficient sports tape to resemble a parcel and Joe Marchant was the first name out of the hat for that job this season]. Meanwhile, deep into Exe's red zone Danny tried one of his cheeky, chappy grubbers that didn't produce a try. Barnsey brought us back for a penalty under the posts for offside which Nev slotted easily to level it up at 8-8 and nearly half an hour gone. Exe pushed the envelope with their line speed all night and didn't get pinged that often for it but it was a key factor in a very good defensive showing from them.

Largely through some duff kicking from Slade – you try angling one to the corner whilst wearing naff platform shoes and flares, mate – Quins were back in the Exe half and looking even money to add to the score. Regrettably a brainless early engage gave away good field position and the great white wave of Exe shirts stormed back into Quins half. Devoto launched one in the air and, from the ballsed up Quins catch on about half way, James Short burgled the ball and saw some space into which he accelerated on the angle. Before the gasping Quins cover could scrag him he found Woodburn who then flipped an inside pass behind his back to the supporting Campagnaro who galloped in. It was breathtaking handling and top-drawer chance taking. Slade definitely felt the noize this time as the converted easily making it 8-15 and only four minutes to half time.

Quins made good use of that four minutes as Yarde ran back the kick off well and pressured Exe into a penalty. Nev planted it way deep into the Chiefs red zone, despite a balletic attempt from Slade to keep it in. Even though we stuffed up the line out – we went long as Horwill scuttled to the front and down the narrow side – we regained possession and between Marchant – he's got a magician's hands – and a rumbling Robshaw we put the pressure on. It resulted in a penalty under the posts that Nev eased over to leave it intriguingly poised at 11-15 and me dashing to the gents.

The second half immediately fizzed into life as Marchant nailed Short with a crunching tackle: he's not just a pretty face is he? Exe retained the ball though and worked it to the east stand side. Nev followed it like a hawk and latched onto a less than sharp pass and hit what passes for the afterburners in his 36 year old legs. They were good enough to keep him away from the chasing Exe cover and he made the whitewash moments before the United Airlines security team got to him and dragged him out of play. What a start to the half. An understandably short of breath Nev – at his age he needs oxygen bringing on, not water, as he lines up the kicks – fell short with the conversion. Still, game on at 16-15 and 37 minutes to play.

Exe were back at us though with Slade popping a penalty into the corner, but for once stuffed up the line out. Their's looked much more reliable than ours all night, it was like a VW in comparison to an Austin Allegro. Not long after Roberts got penalised – maybe unluckily – for an early hit and from a harder position Exe opted for the points. The Exe fans weer all crazee now as Slade made it 16-18.

There was still no let up in the pace of the game or the entertainment value. Buchanan burst through the Exeter cover but Exe, aided by a missed knock on, ran it back at us. Only a great bit of cover from Marchant saved us. Visser then nearly twisted his way over and Marler made more holes in the Exe cover as Luamanu cleared out a ruck so effectively he could have been using dynamite. And yet the Chiefs stayed brave, as the Exe forwards kept out the Quins pack who were suffering whiteline-itis. In the end Quins gained a penalty that Nev nailed as it see-sawed back to 19-18.

Exe then began to go through their bench – it looked on paper better than Quins bench – and maybe that and the pace of the game began to tell on some of the Quins players? Either way, the scoreboard began to resemble the 20th century counting upwards……19-18 became 19-25, which became 19-32 and finally there was definitely not peace in our time at 19-39 as Exe ran in three unanswered tries in 11 minutes.

The first of those scores was a brilliant piece of opportunism from Turner the Exe full back, and by gum he had a much better game than Brownie. Danny Care had threaded through a kick from a good attacking position in the Exe half, but the ball sat up well for Turner who then waltzed through the on-rushing Quins, chipped and chased getting a very generous bounce of the ball along the way for an absolutely brilliantly executed individual score from over 50 metres out. Slade had passed the kicking duties to "my friend Steen" who just doesn't miss so 19-23 rushed into 19-25. For Quins the great depression deepened as we stuffed up the kick off and from broken play Jack Maunder (a lively night for him, and surely an England no 9 in five years' time?) chipped into space and Slade following up at pace collected a bounce that was kinder than Mother Theresa. At full speed he then chipped and chased saying Gudbuy to what was left of the Quins cover (not much as it happened) for a stroll in. Steenson added the two points and 19-32 clicked over on the calendar.

Credit to the Quarters – heads didn't drop – and Yarde hustled us up field again and Swiel (on for Nev) got us moving well. We were unlucky not to pick up a scrum penalty from a demolished Exe pack. From a penalty kicked to the corner we got done for a "truck and trailer" (which is rhyming slang for complete failure) at the line out and let Exe off the hook. Exe forced us back to playing in our half and Yarde lost the ball in contact following a good run. Turner was fully alive to what might be on and kicked through. He got a bounce so charitable that it could have had its own fund raising day but he dived over for another five and gleefully punched the ball into the south stand. The conversion didn't challenge Steenson and the trickle of Quins leavers turned into a stream of evacuees as 19-39 showed up at 77 minutes.

The leavers missed Quins fight back with a consolation try of no consequence other than statistical – and no bonus point. Luamanu – good carrying all night - rumbled through enough cover to create a tiny bit of space out wide for Visser to barge through plenty of still willing cover. Swiel added the extras but it didn't change the points in the table, and we finished up at 26-39.

On another night Exe wouldn't have got those bounces? The cliché is that you make your luck and Exe never stopped working and never for minute looked like they'd settle for anything less than a good win. As Jack Nicklaus once said: "The harder I practice, the luckier I get". And yet…..it felt like another lost opportunity for Quins and not to get a bonus point was again poor. The lack of bonus points may well cost us at the end of the season. It was though great entertainment…….which in turn begs the question why we turn up at Quins as been debated on the board recently? To see us win 3-0 on a regular basis, or to see two international-stuffed sides put on a fast paced, high scoring and immensely skilful game where we happen to be on the wrong side of the score-line more often than we want? I know which I prefer.
pqs: qs: