The Sinckler Factor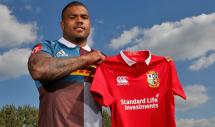 By RugbyMarvel
July 5 2017
Abrasive and Aggressive with a lot of Attitude, Kyle Sinckler has stormed through the Battersea Ironsides, Harlequins, England and now the Lions ranks, and is already a two time test Lion. This article assesses the impact of the Marmite Tighthead.
A wrecking ball of a runner and demolition expert in the tackle, Sinckler is the perfect front row 'super sub' with his ability to come onto a broken field and impose his uncompromising style of play.
First and foremost the news reports which circulated on Saturday/Sunday concerning Sinckler, Dagg, Scott Barrett and most alarmingly Owen Farrell should be confronted. From a clip that was tweeted (which had no real context nor detail), the media have indicated that words were exchanged between Sinckler and numerous All Blacks over his apparent refusal to walk through the guard of honour. He refutes this, stating he went through at the beginning, but whatever actually happened, it was obvious that Farrell was unhappy with him and was having to be held back at one point by other Lions. Now, I would suggest watching the video to those who have not, and here is a link to the original tweet;
Now I presume we will never know what actually happened but after an emotionally charged game prior to which I anticipate Graham Rowntree, Warren Gatland and others pumped up Sinckler to ensure he was at his combative best, it can boil over. Obviously, we all love the ideals of rugby and the fact players can share a beer post game, despite having attempted to beat seven bells out of each other only an hour before. In the immediate aftermath of a game however, only minutes later, the odd flare up in big games will occur and this is just an example of that.
---
Here is a line, and its drawn under the incident.
The impact of Sinckler this tour cannot be questioned as he has looked dangerous in the loose and done everything asked of him. He has a searing, NFL like, turn of speed which offsets defences and creates unexpected mismatches.
There is though the question of his hot headed nature boiling over and meaning he becomes a penalty machine, or a magnet for sin binnings and red cards. I ask though, how often do you think The Sink has incurred the wrath of the referee and found himself having an early bath? Four yellow and no reds in 4383 minutes of professional rugby for Harlequins. That is 100 appearances, so one yellow every 25 games? Social Media included phrases such as "card machine" and "liability". I'd say not? (He has also avoided any cards in his short and sweet 8 England caps from the bench…)
If Sinckler wasn't so belligerent and hostile in both his manner on the pitch, would it affect his style of play? There aren't too many Mr Nice's out there who can switch their setting from cruiser missile to nerf gun. I expect people will disagree and point to various players who can make big hits and are hugely physcical but also don't get involved in the handbags and scraps. I'll then direct you to some of those players I recall past and present where it is evident that it is there physicality and antagonising ways that actually made them the players they were; Sebastian Chabal, Eben Eztebeth, Martin Johnson, Julian White and even arguably Owen Farrell and Mike Brown…
I recall an Aviva Premiership game, possibly a semi final, between Saracens and Quins. Quins had managed to quell the Saracens gameplan in the first half and Sinckler was heard to shout down the tunnel to the Sarries boys "What Wolfpack, what f***ing Wolfpack?". Despite going onto lose, its this kind of behaviour which I actually like, especially from a young prop who is there to be the most dominating he can be.
Sinckler only managed 18 minutes on the park in the second test, but think about the huge impact he actually had. The first mark he made was clearing out an All Black guard, who promptly grabbed at Sincklers sleeves as he forced him back like an NFL defensive end. This ended with the All Black being thrown back a few metres and landing promptly on his backside. Nothing illegal, but there is now one more New Zealander out of position and one small contest won.
He and Lawes then mullered an All Black runner in the midfield, driving him back at speed. This took any momentum out of the move, and allowed the Lions boys to regroup.
There is so much more to pick up on, silky passes from the back of the lineout, being the key player in the Lions winning penalty (albeit controversially) and powerful running in the tight. He did this at the end of the first test as well, chucking in a brilliant 20 metre dash down the right wing to top it off.
This lad has proven in the white of England, in his club colours and now in the red of the lions that uncompromising legal violence is one of the key things that wins rugby games, especially against world beaters like the All Blacks. I fear what he is like on the beers, but I would want him on my side any day. There are not many players like him, and with the right guidance I am sure he will push on to being one of the best tightheads in the professional game. Rumour from inside the camp is that Graham Rowntree, an early mentor of Sinckler, has been one of the main driving forces in ensuring his selection, and that he has even been pushing for The Sink to take the mantle of Dan Cole for a substantial amount of time.
There is nothing more majestic that a tighthead prop in full flight.
As a famous Rugby Podcast channel states (The Eggchaser Boys – One of the reasons I decided to blog);
LET THE BOYS PLAY.
This quote couldn't be more right in regards to Kyle Sinckler.