On Tour with the Lions - Part five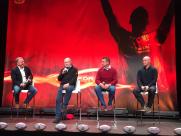 The panel
By Gym Haka & Poytonshark
June 29 2017
We we have a treat for you this time...no expense spared! We have two for the price of one. gym Haka continues his tour of new Zealand the highlight this week...his own washing machine...and fish and chips. Poynton Shark watches from an armchair in Australia and gives his view of the first test...and he is not despondent...yet. So sit back and enjoy...this is an epic.
Lions come alive and it's back to windy Auckland.
By Gym Haka
Changing hotels almost as much as changing my underpants is putting me in with a chance of replacing Alex Polizzi. Certainly the Hamilton hotel would benefit from calling her in and I guess there would be some "Fs"amongst the "darling"s. 31 unhappy campers attend a meeting to express dissatisfaction about their accommodation and eventually we are offered various options including an early return to Auckland which I go for.
But there is the small matter of dealing with the Chiefs first. It's match day and the usual mix of exhilaration, nerves and excitement surfaces. I'm distracted by Hamilton's only attraction according to Lonely Planet, the Museum. There is a terrific exhibition on the ANZAC contribution to WW1 and there are countless tales of sacrifice for the mother country in a land they didn't know so far from home. I have spent many an hour in the terrific Imperial War Museum back home but this on a smaller scale rivals the quality of the way the sadness is portrayed. Almost as many horses as men made that long journey but only 4 horses returned to New Zealand each belonging to officers. The vast majority could not go back so the men could choose whether to leave them in the hands of the French to eat or shoot them personally and almost all chose the latter. Grim times from so many perspectives.
There have been invites to our group to meet local rugby clubs to share ways of involvement in the community. As I'm not involved in anything like that I've skipped those invitations but last night's attendees were encouraged to bring our party prematch. The coach parks up outside a graveyard (an omen???), and the stadium is ahead with a large hot air balloon fired up in front. Is this the owner's equivalent of BK's helicopter? The local clubhouse is one of a number within an easy walk of the ground and it's car park is full of motor homes. The welcome is warm as always and not just because we will add to beer sales. The enormous bar is heaving and decorated to the rafters with photos of warriors of old and framed shirts of all colours including some black. People I've never met before and will never meet again share stories of the 2 lands and the game that unites them. Beer is $NZ5 a bottle, cheaper than the stadium or anywhere else, bar the supermarket. I talk to a Glaswegian with the usual tricky accent who is in our group but have avoided before. Wish I'd spoken earlier as after revealing his Rangers religion he turns out to have been to UMIST and lived in Chorlton, Withington and Bramhall. Homesick again but fleetingly. The stadium is packed to the rafters and I can touch the rafters of my stand as I'm on the back row. There are 2 permanent seated covered stands facing and at the ends standing terraces(where does that remind me of?). Behind one terrace is a huge open temporary stand packed with seated fans including many blocks of red. It's the midweek team with a final chance for elevation to Saturdays and they don't disappoint. Nowell, Daly and Cole star for me and nobody could try harder than the unlucky Lawes. Tries at last and some quality back play behind a dominant set piece. The coach back is buzzing. For the first time we dare to believe we have a chance at the weekend. I sleep badly again and resort to picking my test team at 2am, 3am and 4am. Tomorrow should bring a decent bed. Please.
I sleep most of the way to Auckland before howling winds and Manchester drizzle make me strangely homesick. This hotel is terrific but it's a one night stay before being back on the coach for a short trip to the original hotel from a month ago. I slept so well I nearly missed breakfast. A short trip as the crow flies but as they don't have crows here it's a long diverted trip due to many roads dug up as they are building a Tube. After the queue in reception I am welcomed back only to be told my room isn't ready. A flat white and a read of the NZ Herald passes the time. A huge photo of our group is on the front page of their national daily. But they miss me off the end of it, so fame here will just have to wait. Eventually my key arrives and wow it's worth waiting for. Not just a room but an apartment- with a washer/drier and free soap powder. Not sure whether to let the rest of the party in on this as it could turn in to Gym's laundrette. Decide to be mean and smug as the first load starts to spin.
1st Test Looms and ends in tears.
Gym Haka
The streets of Auckland are teeming with Lions dressed in a variety of costumes. There is a younger feel to the newer arrivals who haven't benefited from the triple lock and here on the cheap. There are certainly no shortage of backpacker lodgings mostly with a no in front of their vacancies sign. The weakness of the pound means lodgings, breakfast and beer are stretching some budgets to the limit. Wind and drizzle continue limiting the appetite for venturing out of the hotel but the evening is an exception with a visit to NZOpera's production of Bizet's Carmen. A high quality cast and chorus contrasted with the last time I'd seen this- a dreadful East European effort at the Opera House in Manchester. The audience was a mix of students buying beers in trays reminiscent of a test match Saturday at Headingley through to the well to do adorned in black tie or long dress. I seemed to be the only one dressed in Lions gear for some reason. My new hotel is about 50 yards from the All Blacks hotel. Just wondering whether they might appreciate some singing of Jerusalem at 3am on Saturday morning but the thought of Brodie Retallick objecting face to face puts me off the idea.
The eve of the Test arrives and the mixture of excitement and anxiety curdles in my stomach. Defeat will be a downer but a drubbing will be very difficult for team and the red army to come back from. The tour company has arranged a function at a large venue on the waterfront with free food and booze for the first 2 hours. There are 1500 present all in uniform. There is entertainment hosted by Andy Nicholl who proves to be an excellent wit. The interviewed were Alan Conlon, John Taylor, Martyn Williams, Alex Payne and Will Greenwood all with good tales to tell. 4 types of curry were on offer which is not as many as in Rusholme but twice as many as at Sale Sharks. I hate so that was a fat lot of good but I did manage 6 glasses of sparkling wine. The walk back through the lines of super yachts was therefore slightly hazardous but I survived. The waterfront was absolutely buzzing as every restaurant seemed to have its own speakers blaring out a variety of music.
The big day arrived and my nerves were worse and in particular my autonomic gastrointestinal nervous supply. I popped down to the newly opened fan village which was enormous on a pier jutting out into the bay. I made a mental note of where the prematch function was to be held and the location of the railway station for later. I went back to the hotel and had a snooze only to wake and realise I had missed the function and it's free booze and food. I later found out it starred Scott Quinnell on good form with loads of patriotic singing and …. Fish and Chips!
Eden Park is a 45 minute walk from the centre of town and there are pink fans feet painted along the pavements to make sure you don't get lost and there is musical entertainment provided at intervals along the route. I decide however to go for the free transport to the ground which is part of your match ticket, either train or bus. The train seems the better option and its awash with red. A walk round the stadium reveals the wonderful prostrate statue of an All Black scoring a try. Once again our group has side on tickets but in the Gods. The back row no less, the highest viewpoint in Eden Park. Before each game on tour there is an annoying twerp who looks like Where's Wally who tries to whip up the locals with a popular Maori chant. Every game he is hijacked by "Lions Lions Lions Lions". There is annoying guy with a camera on a Segway who again features at every match. How do you get that job? I'm willing him to fall off. The national anthem is followed by another Haka - and then the series proper starts. It's so nearly a dream start and nothing turns out the way the pundits predicted. The Lions play an expansive game but lose the breakdown and don't dominate at scrum time. The Blacks play through the ruck and Retallick has a stormer. He looks like a baddie out of James Bond. Barrett of the 10 variety stars at 15 and I'm beginning to find him seriously annoying. It's the Lions not the All Blacks that score the dream try. The Lions are asleep as NZ score ( the last pass was forward). 30-8 becomes 30-15 and it's all over. What might have been? Games hang on small things often and this was no exception. We lost but we played pretty well and I feel they are beatable.
The train journey back is hell. Sardines are tinned with more room. I am sweating profusely on disembarking. Back at the hotel, I read the press and disagree with the players scores, particularly WalesOnline who clearly were watching another Test in another Universe. Still my washing is dry.
Composure is Key
Poynton Shark
The Lions came to Auckland looking to be the first team to beat the All Blacks there since 1994, a tough task for anyone. The opening exchanges gave Lions supporters hope, but an all too familiar pattern eventually unfolded.
The start was better than the Lions could have hoped for, in the first two minutes the All Blacks had spilled a Connor Murray box kick and been cut apart by Jonathan Davies' run, continued by Murray who released Elliot Daly, only superb defensive work by Israel Dagg, wrapping up Daly's arms in the tackle prevented the opening try.
For a few minutes the Lions look the better side, aggressive defense, All Blacks not quite finding their accuracy ball in hand, another Murray box kick uncharacteristically spilled. But in the 5th minute , could one innocuous piece of sublime skill mark a turning point. Beauden Barrett attempts a grubber through the lions defense, but hits Murray's shins, the ball ends up behind him, Barrett turns and gives chase with Murray and Peter O'Mahony at his heels, without breaking stride Barrett bends, scoops up the ball one handed and sets off back up field. The locals in the crowd wake up and roar their appreciation, could this have woken the AB's too? It certainly marks the beginning of a period of sustained pressure. The offloading game begins to work, the support runners always seem to be in the right place, the Lions begin to force offloads that aren't really on. 12th minute and the pressure results in Tagh Furlong giving away the first kickable penalty, Barrett obliges and AB's take the lead. 6 minutes later it get's worse, more sustained pressure but Lions defense is holding out until George Kruis is pinged for holding on just 5 metres out from the Lions' line. The Lions look to prepare themselves for the restart after the inevitable 3 points, but this is New Zealand, that momentary switch off is all they need, Aaron Smith taps passes to Barrett who quickly ships it to Dagg, he send a wide pass that dips as it reaches it's target but Codie Taylor picks it up from around his ankles and scoots into the corner unopposed. That's real heads up rugby, no-one looking to be a hero, no outrageous skill, just the basics executed quickly and flawlessly (OK that Dagg pass could have been better, but poetic license dictates). Barrett knocks the conversion over from the right hand touchline.
Lesser teams might well have folded, even at this early stage, but despite continued pressure from the hosts, the Lions hold firm and eventually begin to come back into the game. Just before the half hour Daly out jumps Dagg to collect an Owen Farrell cross field punt, but as he is looking to pass inside to put Liam Williams in for an almost certain score, Jonathan Davies appears to be in the way, Daly hesitates and loses the ball in the tackle as the defensive cover comes across. The kind of opportunity you can't afford to squander against the All Blacks. Fortunately the Lions don't come away from this little period empty handed, Owen Franks jumps early to take out Murray at the back of a ruck and Farrell gets the Lions on the scoreboard with a straightforward penalty. Pretty well straight from the kick off the Lions concede another penalty this time Jamie George a lazy runner, Barrett restores the 10 point lead. It's tough enough against this lot, without gifting them points and New Zealand begin to build pressure again, a well placed Aaron Cruden (on as replacement for Ben Smith) kick sends Anthony Watson deep into the Lions 22. What happens next is very special evoking memories of 'That Try'. Watson collects and passes infield to Williams who shapes to kick but then steps off his right foot, leaving the onrushing Kieran Read chasing his shadow. He then proceeds to arc a crossfield run around Cruden and straightens to avoid Sonny Bill Williams' tackle, still in his own 22, but not for long, he's off, heading for wide open spaces. No further opposition until he reaches the halfway line, where he's tackled (I think by Dagg). Still Williams isn't done as he goes down he offloads to Davies who in turn quickly ships it on to the charging Daly. A nice little in-out movement sees Daly just about beyond Anton Lienart-Brown (on as a replacement for Ryan Crotty), but does just get his ankle tapped, but he too manages to offload to the still supporting Davies. Feet from the line the covering Barrett brings down Davies, but yet another offload, this time to Sean O'Brien (what's he doing there?) and he crashes over the line. Stunning try. Farrell misses the conversion. Half time 13-8, the Lions are still in this.
Love the half time comment from Sir John Kirwan, paraphrasing "The All Blacks looked to be taking control, but then Liam Williams decides to launch an attack from somewhere on the South Island"
Lions start the second half where they left off, Daly gets under the kick off, but is adjudged to have knocked on as he landed (looked to me like it was stripped by an All Black). From the resulting scrum Ben Te'o puts in one of the best tackles you will ever see, but is pinged for taking Sonny Bill beyond the horizontal, very harsh. I'm all for protecting the players safety, but to take tackles like that out of the game can't be right. The NZ commentary team to a man share my view. It's no too long before Williams and Davies are at it again. George Kruis gathers a rare All Blacks' fumble feeds Farrell who flings it out to Williams, just outside the Lions' 22. Williams feeds Davies who spots a Hooker and a No8 in front of him and scoots between them, trades passes in the tram lines with Murray before looking inside to Watson supporting the break from the opposite wing, as Watson is scragged he pops it off to Williams, but the scramble defense is quick and numerous, the Lions are stopped about 5metres short, but retain possession and send the ball the other way, with men outside him Ben Te'o chooses to cut inside and slips, another try scoring opportunity goes begging. Lions maintain pressure resulting in a penalty for offside, kick to touch and a lineout 5m from the All Blacks line. Lion smake a horlicks of the drive and get turned over, but quickly regain possession. Still can't force their way over the line. A rare mistake from Murray allows Dagg to pun the ball downfield. The Lions still aren't done, Daly collects deep in Lions half, feeds in field to Williams who makes easy ground into All Blacks territory before feeding inside to Watson he sets of on a mazy run beating several defenders before being tackled at the 22m line where he attempts an offload that isn't really on, possession lost again when a touch of composure should have seen the pressure maintained. We've already created more chances than the All blacks usually give away in a season, being so wasteful will surely cost.
As the rain sheets down both sides tighten up, forwards go toe to toe. Not exactly stick it up your jumper stuff, but noticeably more forward oriented, played closer to the breakdown. The All Blacks have the upper hand recycling quickly and often Lions unable to do anything to slow down their supply, but defending their 22 manfully. The unenforced replacements begin, Maro Itoje on for Alun Wyn Jones, Jones was all effort but sadly largely ineffective. Shortly afterwards Jack McGrath for Mako Vunipola after another hard working stint. Sam Warburton comes on for Peter O'Mahony, surely an attempt to compete more effectively at the breakdown. The All Blacks change both props, Wyatt Crocket and Charlie Faumuina the new boys.
Those new props appear to make a difference, as the All Blacks get a shove on in the first scrum to move more than a couple of inches all game, under a penalty advantage for skewing the scrum Read picks up and pops a ridiculous offload to Aaron Smith, the ball gets wide quickly to Rieko Ioane and the alleged fastest man in the All Black squad easily gets around the defence to score in the corner. Another Barrett conversion from the touchline 20-8.
As we reach the last quarter, typically the time that NZ pick up the pace and kill off opposition, Johnny Sexton, puzzlingly on for the excellent Te'o, is caught offside in front of the posts. Read opts to go for goal to put them more than 2 converted tries ahead, Barrett obliges 23-8.
New Zealand maintain pressure, Lions still unable to slow them down at the breakdown. It takes an Itoje steal at a penalty lineout to allow Murray to kick clear. After a rare spell of continuous Lions possession, with all the action in midfield, Sexton finds touch deep in the 22 from a penalty for an off the ball tackle. Ken Owens, just on for George misses Kruis with the lineout but NZ need 2 goes to clear after Kruis charges down the first attempt. Still Lions pressure with a lineout just inside the 22. Sexton attempts to pop a pass to Farrell, but seems to hit an on rushing defender, ball goes to ground and TJ Peranara, on for Aaron Smith, launches a speculative punt up field, Liam Williams fails to collect and Ioane pounces easily outstripping Daly to kill off any lingering hope the Lions may have had of saving the game. Barrett maintains his 100% with the conversion 30-8.
The Lions show admirable spirit and continue to take the fight to the All Blacks, typified by a pacy run in wide open spaces by Kyle Sinckler. As the game draws to a close NZ substitute their captain Kieran Read, he's put in a fine performance by anyone's standard, but when you consider that he hasn't played at all for 8 weeks then his performance becomes remarkable. A couple of penalties keep the Lions on the attack, Johnny Sexton sends a penalty deep into the corner as the hooter sounds. The Lions set up the drive from the lineout, Rhys Webb makes a break and offloads to Davies, he is stopped just short. Lions recycle and Webb darts again, this time making it. Farrell adds the consolation conversion 30-15.
Good spirit and some damn fine rugby to boot, but yet again, just not good enough to beat the All Blacks. The Lions must improve their composure when they create chances, make better decisions and be more patient. Too often they tried to force an offload when close to the line instead of just taking the contact and re-grouping. It has been quoted in just about every report of the game, but bears repeat, the Lions created 5 clear cut chances and only converted 2 of them, the All Blacks created 3 (to be fair the last one wasn't really created) and converted all of them. Plenty for the Lions to be positive about, as Gatland has stated post match, the main problems are fixable. The biggest issue is, that chief problem of not converting chances has been a problem all tour and they haven't fixed it yet. Though I am possibly Connor Murray's biggest fan outside of Ireland, I thought he over did the box kicking a bit. It is a potent weapon but loses something of overdone, after the early spills the All Blacks gratefully accepted the possession. Probably a few changes to make, the Lions were, perhaps surprisingly, second best up front, an area they were looking to dominate. They need to stop or at least slow down the All Blacks ready stream of possession, an extra ball carrier or two might not go amiss either. My only certainty is that Itoje should start, probably Warburton too, he hasn't sparkled on tour, but he is the Lions best option on the floor at the breakdown. CJ Stander might get a look in along with Iain Henderson. The backs were OK though if North is fit he might be included too.
I was a bit disappointed to hear Gatland's comments about targetting Murray, pretty much agree with Steve Hansen. I think Murray only got hit twice, once early by Kaino, who was looking to disrupt the kick, caused no harm at all, then later on he got a shove after the ball had gone, could have been a penalty but again no harm to Murray.
Not despondent yet, still hopeful that the Lions can cause an upset, but the mountain has become a cliff face.
pqs: qs: